Miniskirt, drum & saxophone: Tuktamysheva sets pulses racing at exhibition gala (VIDEO, PICTURES)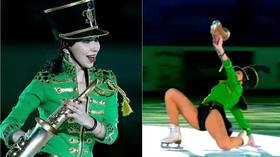 Russian figure skating diva Elizaveta Tuktamysheva delivered yet another stunning performance at the national championship, sending the crowd into meltdown with her new extravagant exhibition routine.
The 23-year-old, who finished fourth at the national tournament in Krasnoyarsk, gave "a one-girl band" performance with various musical instruments in a dynamic dance to the song 'Destination Unknown'.
READ MORE: Anna Shcherbakova performs INSANE quad-jumping routine to win Russian figure skating championship (VIDEO)
Wearing a black miniskirt and a green jacket, Tuktamysheva masterfully 'played' a saxophone, drum, and cymbals while demonstrating incredible skating skills.
The 2015 world and European champion, who missed a spot on the national team this season, said that while she is satisfied with her performance in Krasnoyarsk, she will continue to working on ultra-c elements, including quads, in the future.
"I took a huge step forward by attempting to make a quad in the free program. I don't regret that I made a mistake and was not flawless. I will polish my new program which now includes a quad. I feel comfortable right now, I just need to practice more and train harder to develop and learn new elements," the skater said.
Russian first-year seniors Anna Shcherbakova, Alena Kostornaia, and Alexandra Trusova swept the podium in Krasnoyarsk, earning the right to represent Russia on the international level.
You can share this story on social media: