'Bunch of f*cking bullies': Tony Ferguson details 'hotel confrontation' with Khabib & team
Published time: 10 Sep, 2019 14:36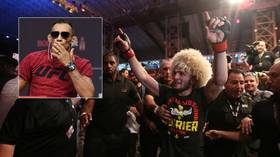 Tony Ferguson, the presumptive next challenger to Khabib Nurmagomedov's UFC lightweight title, says he was 'circled' by the Russian and members of his team at a hotel in what he described as an effort to intimidate him.
It appears almost certain that the UFC will attempt to book the long-awaited bout between lightweight standouts Nurmagomedov and Ferguson in the coming months, following the Russian's successful title defense against Dustin Poirier at last weekend's UFC 242 even in Abu Dhabi.
Also on rt.com
Tony Ferguson, not Conor McGregor, is the sole remaining challenge to Khabib Nurmagomedov in the UFC
To some, even mentioning this might appear to be tempting fate given the fact that FOUR previous bookings between the two fighters have fallen apart for a variety of injury and weight-cutting reasons.
However, Ferguson says that he has an extra level of motivation to step into the cage with the undefeated champion given a series of supposedly unreported incidents between the pair in recent years.
Speaking to ESPN, Ferguson claimed he was approached by Nurmagomedov at a hotel reception where he and members of his entourage supposedly attempted to intimidate the American fighter. Later that same weekend, Nurmagomedov and his manager, Ali Abdelaziz, again tried similar tactics, Ferguson said.
"I was like, 'Dude, what the f*ck? Then, later on, my team and I had another run-in with them. I was like, 'Seriously?' These dudes are just a bunch of f*cking bullies. I stood up.
"Ali Abdelaziz and I exchanged some words over at the fights not too long ago, and he knows exactly what the f*ck he's dealing with," he continued. "I don't play around, dude. I really don't and when I do, it's cool and fun and games."
'El Cucuy' also detailed another alleged incident with Nurmagomedov's trainer Javier Mendez of American Kickboxing Academy. Ferguson gave no details as to when these confrontations took place.
"The elevator doors open, and here's Javier looking at me," Ferguson said. "I didn't realize who he was. I just realized he was a coach. He looked at me, and he kind of went, 'Pfffft. That's him?' I walked by, and I figured it out. I was like, 'What the f*ck, dude?'"
Nurmagomedov has been involved in similar situations in the past. In April of 2018 he confronted former UFC fighter and Conor McGregor training partner Artem Lobov in a hotel in Brooklyn, New York, where he allegedly slapped Lobov. This prompted McGregor to travel to New York which led to the now infamous 'Brooklyn bus' incident.
Also on rt.com
'Lazy, one-dimensional': Tony Ferguson unimpressed by Khabib's UFC 242 domination
As for when a potential bout might take place, Ferguson forecasts a clash on the UFC's traditional end-of-year card.
"Whatever he says, (he's) got to accept the fight," Ferguson said. "Defend or vacate, seriously. Just set it down and f*cking walk away, buddy. Tell everybody you don't want to fight me, you're scared, retire, do whatever the f*ck you want to do. You made your money. Go sit down and walk away.
"If not, that's where I want to fight. I want to fight in December. I'm tired of fighting once a year. I'll be real with you. I'm a competitor. I'm a high-level competitor. I'm a multi-sport athlete. I don't like sitting here and watching people compete."