St. Louis Blues claim their 1st Stanley Cup after 51 seasons, longest wait in NHL history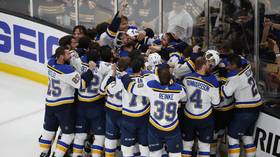 The St. Louis Blues have claimed their first Stanley Cup ever by defeating the Boston Bruins 4-1 in game 7 in Boston.
The underdog Blues, which back in January were in last place, made an incredible run to secure their place in NHL history, ending the season with their first Stanley Cup championship in a nail-biting seven-game series.
Ryan O'Reilly and Alex Pietrangelo performed their magic, each scoring a goal in the first period. Following an uneventful second period, Brayden Schenn and Zach Sanford added insurance goals in the third. With just two minutes remaining, Matt Grzelcyk managed to score Boston's lone goal.
Fans back in St. Louis were ecstatic to see their boys secure their first Stanley Cup after playing 51 seasons in the league. The ending of that championship drought follows last year's hoisting of the Cup by the Washington Capitals, the first in their 43-year history.
If you like this story, share it with a friend!