'Fundamental failure': Independent report says Ohio State doctor's sexual abuse was an 'open secret'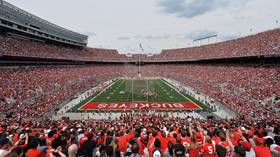 An Ohio State University team doctor sexually abused at least 177 students over a period of 18 years, and senior figures at the school were aware of it, according to a report released on Friday.
Dr. Richard Strauss committed the offences during his tenure at the university from 1979 and 1997, sexually abusing male students who represented the school across at least 16 sports. His offences also took place during his work at the student health center and his clinic held away from the school.
The findings were learned by the law firm investigating the accusations levelled at the doctor, with details released by the university on Friday, according to a report by the Associated Press.
READ MORE: Over 100 former Ohio students allege sexual abuse by ex-team doctor
The law firm interviewed hundreds of former students and employees from the school, and discovered that Strauss's behavior was an "open secret" at the university, and said that the students believed other coaches and team doctors were also aware of Strauss's conduct.
The abusive examinations even became accepted by the students as being "hazed" or as going through "a rite of passage."
Ohio State President Michael Drake issued a statement as he released the report, offering: "profound regret and sincere apologies to each person who endured Strauss's abuse," and calling the situation a "fundamental failure" of the school.
Also on rt.com
Former wrestlers sue Ohio State University over alleged sex abuse by team doctor
Accusers had alleged that more than 20 school officials and staff members, including a former coach who is now a US congressman - Jim Jordan - were aware of concerns about the doctor's conduct, but failed to address it. Neither Jordan nor any other coaches were mentioned by name in the report.
The US Department of Education Office for Civil Rights is now investigating whether the university dealt with students' complaints "promptly and equitably."
Ohio State's employment documents show no record of any concerns about Strauss, who committed suicide in 2005, prior to his retirement in 1998.
You can share this story on social media: