UEFA investigators target Manchester City for Champions League ban after financial probe
Published time: 14 May, 2019 12:13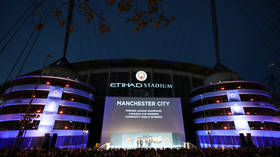 Premier League champions Manchester City could be be excluded from the Champions League for a season if they are found to have broken financial rules in an investigation conducted by UEFA.
The club are alleged to have misled European football's financial regulators by breaching Financial Fair Play (FFP) rules related to inflating the the value of sponsorship deals. Manchester City have previously paid a £49 million ($63.4 million) fine in 2014 for a similar breach, but as per a report by the New York Times, the sanctions could include a European ban this time around.
Manchester City have been at the center of a months-long investigation into their financial affairs since since they were named in a damaging series of leaks some months ago. It is alleged that money was funnelled into the club by a United Arab Emirates based investment company, which bypassed FFP rules by inflating the terms of sponsorship agreements.
Also on rt.com
Blue moon arising! Manchester City crowned Premier League champions after last day thriller
Sponsorships from companies linked to club ownership is allowed, so long as the sum in question reflects the market value.
An investigatory panel led by former Belgian Prime Minister Yves Leterme met two weeks ago in Switzerland and they are expected to announce their findings in the coming days, and according to reports a suspension of at least one season from the Champions League is expected to be the result.
However, the club would still likely compete in next season's Champions League if a ban was applied as they would almost certainly seek to appeal the ruling to the Court of Arbitration for Sport.
Also on rt.com
Manchester City facing Champions League ban for potential Financial Fair Play breach
"The accusation of financial irregularities is entirely false," Manchester City announced in a statement earlier in the season.
"Manchester City welcomes the opening of a formal UEFA investigation as an opportunity to bring to an end the speculation resulting from the illegal hacking and out of context publication of City emails.
"The club's published accounts are full and complete and a matter of legal and regulatory record."
However, according to reports Manchester City's punishment could be influenced by an allegation that it provided false information related to a previous investigation.
Financial Fair Play was instituted to impose rules in the game to prevent clubs from spending outside of their means, and to also provide a degree of parity between some of the less financially secure clubs and the expanding list of 'super clubs' which exist in Europe, often bankrolled by exceedingly wealthy backers.
The outcome of the case will be watched closely by a range of Europe's elite clubs, with French giants Paris Saint-Germain another club with close ties to the Persian Gulf states. The investment into the Ligue 1 champions has been questioned, particularly recently when they purchased the world's two most expensive players, Neymar and Kylian Mbappe, within weeks of each other.
In 2014, PSG were deemed to have breached FFP rules in a deal related to a sponsorship agreement. They were issued with a spending cap, a fine and limited to registering just 21 players for the following season's Champions League campaign.