Updating his status mid-fight? Judoka disqualified for dropping cellphone during match (VIDEO)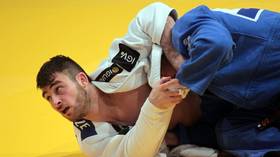 Portuguese judoka Anri Egutidze was bizarrely disqualified after his mobile phone, hidden in his kimono, fell out onto the mat during a match at the 2019 Grand Slam World Judo Tour in Baku, Azerbaijan.
READ MORE: 'Give love': Filipino 'Spider Man' jailed for storming basketball game, hurting player (VIDEO)
The unusual incident took place at the weekend during the men's 81kg bout between Egutidze and his Swedish opponent Robin Pacek.
Pacek was attempting to get grip his Portuguese counterpart when the latter's mobile phone dropped out of his kimono, prompting the referee to halt the fight.
The 23-year-old judoka, who is of Georgian descent, was handed a technical loss for bringing an unauthorized object onto the tatami.
The controversial episode had users on social media ridiculing the unlucky grappler, who obviously forgot to take the phone out of his uniform before the fight.
"Maybe he wanted to share his heart rate and calorie consumption through Google Health or Strava," one user suggested.
"Perhaps he needed to update his [Facebook] status mid fight," another person joked.
You can share this story on social media: