'Give love': Filipino 'Spider Man' jailed for storming basketball game, hurting player (VIDEO)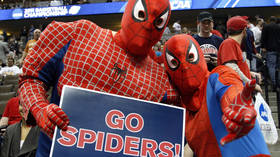 An intruder who dressed as Spider Man to interrupt Game 5 of the 2019 PBA Philippine Cup finals basketball event at the Smart Araneta Coliseum on Friday, with a placard urging people to vote, has been taken to jail.
The man, identified as Paolo Felizarta, charged onto the court brandishing a sign that read "Vote! Love!" with just three minutes remaining in the game between San Miguel Beermen and Magnolia.
Felizarta collided with San Miguel centre June Mar Fajardo, unintentionally injuring the player's jaw, and causing an abrupt stoppage in the game.
In-arena security and police officers swiftly apprehended Felizarta, and also arrested two other men. According to ABS-CBS news, PBA commissioner Willie Marcial said the league will press charges.
Felizarta was taken to jail, and later explained his bizarre stunt as a means of spreading "love" before the 2019 Philippines Presidential Elections, which will be held on Monday May 13.
"Spider-Man" has not been identified yet but he's been arrested and the PBA will press charges.It appears that San Miguel will consider filing separate charges as well following the incident that left star center June Mar Fajardo shaken up#PBA2019#PBAFinals | @abscbnsportspic.twitter.com/h6dz0c5wIV

— Paul Kennedy Lintag (@paullintag8) May 10, 2019
"I just want to send a message because it's the elections," he said, rappler.com reported. "I just want all of us to give love. That's it. Nothing more."
He added: "My message is to love so I won't do anything to hurt other people. I didn't see him. Fajardo was the one who bumped to me."
Of the two men arrested, Rayahn Paredes is said to be an accomplice of Felizarta and the second, Flenn John Lola, was caught punching the intruder as he was bundled off the court.