'Insanity': 3 v 3 mixed martial arts fight causes storm online (VIDEO)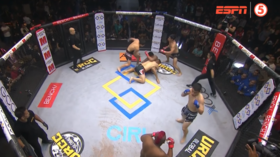 A recent MMA event in the Philippines which featured a contest pitting two three-man teams fighting each other at the same time has divided fans, with some branding it a 'disgrace' to the sport.
Some sports are generally considered to be solo activities and mixed martial arts is certainly one of them - but it does beg the question: what would it look like if you made it a team sport?
Apparently this was a question which the organizers of URCC 77 in Manila felt needed to be answered and, as it turns out, it is quite the sight to behold.
The fight featured two three-man teams all in the cage at the start of the bout but soon descended into chaos as fighters attempted to team up on opponents, and basically figure out which of the three foes opposite them presented the most immediate danger.
As one might expect, a pursuit such as this comes with some logistical difficulties. At one point two fighters become separated from each other by a barrier of two other men grappling on the canvas, forcing both to alternate their focus between the man opposite them and their teammate on the ground.
And that's without even mentioning the annoucers' mammoth task of attempting to describe the action.
In the end, the bout comes to a close (temporarily at least) just under a minute into the first round after one of the fighters complains of taking a punch to the back of the head - a move which controvenes the unified rules of mixed martial arts.
We are fairly sure that those same unified rules prohibit three-on-three MMA, but who's counting? As strange and curiously exciting as this is, it is unlikely that UFC president Dana White will be pushing forth a plan to bring fights like this to the promotion when he sees it.
You can share this story on social media: