'Terrorism is likely': Foreign Office warns Chelsea and Arsenal fans over Baku Europa League final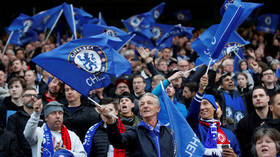 The UK Foreign Office has issued a statement to fans of UEFA Europa League finalists Chelsea and Arsenal, ahead of the match in Baku, warning that terrorist attacks are "likely" in the Azerbaijani capital.
The two London clubs will travel to Azerbaijan for the game on May 29, but have been warned of potential terrorist attacks and other dangers in the South Caucasus country, according to the Mirror.
"Terrorists are likely to try to carry out attacks in Azerbaijan," the Foreign Office wrote.
"Attacks could be indiscriminate and against civilian targets, including places frequented by foreigners, such as international hotels, restaurants and pubs, as well as energy sector facilities. You should take sensible precautions."
While the Foreign Office advise supporters to be "vigilant", they do also mention that crime in Baku is relatively low, although muggings are common around western bars in the city center.
Arsenal winger Henrikh Mkhitaryan is set to miss the game over fears for the Armenien's safety in Azerbaijan. The two neighboring countries harbor strained relations owing to two wars waged between the nations over the past century.
Chelsea made their way into the final courtesy of a tense penalty-shootout win over German side Eintracht Frankfurt after their semi-final tie ended 2-2 on aggregate. City rivals Arsenal bested Spaniards Valencia 7-3 on aggregate in their respective match.
The presence the two Premier League clubs in the final of Europe's second competition means that, for the first time ever, the Europa League and Champions League finals will feature all-English lineups, after Liverpool and Tottenham Hotspur reached the final of the latter.
Fans have already expressed their disgruntlement at UEFA making just 6,000 tickets available for both sets of fans for the match at Baku Olympic Stadium, which has a full capacity of over 68,000.
Europe's football governing body says this is partly down to fears Baku International airport could not cope with a higher quantity of fans arriving for the match.
Also on rt.com
'All is forgiven': Kepa the shoot-out hero as Hazard fires Chelsea into Europa League final