'That's what I think of him': Malignaggi spits at Conor McGregor mural as feud rumbles on (VIDEO)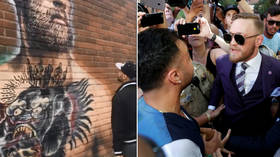 Former two-weight world champion boxer Paulie Malignaggi showed exactly what he thinks of UFC star Conor McGregor, spitting on a mural of the Irishman in LA.
The pair have been engaged in a bitter feud since falling out after the American sparred with McGregor ahead of the MMA star's mega-money boxing bout with Floyd Mayweather in 2017.
The row has extended to frequent goading on social media, which was where Malignaggi has now posted a clip of himself unloading a mouthful of phlegm at a mural of McGregor outside O'Brien's Irish pub in Santa Monica.
"What do you about this right guy here?" the person filming the clip is heard asking.
"That's what I think about him," says the Brooklyn brawler after spitting at the image of McGregor.
The video shared with Malignaggi's 135,000 followers was captioned: "F*ck the other side," with McGregor and his training partner and friend Artem Lobov both tagged.
Lobov has become embroiled in a proxy war with Malignaggi, with the pair due to settle their differences in a bare-knuckle boxing bout at the BKFC 6 event in June.
Malignaggi, 38, has signed with the promotion while Russian-Irish fighter Lobov, formerly of the UFC, made a successful bare-knuckle bow in a slugfest win over Jason 'The Kid' Knight in April.
Also on rt.com
'Bare-knuckle bloodbath': Reaction after Lobov wins BKFC debut – and sets sights on Malignaggi
Malignaggi has called on McGregor himself to step between the bare-knuckle ropes, although that seems an unlikely prospect given the Irishman appears set for a UFC return at some point this year as he angles for a rematch against undefeated Russian Khabib Nurmagomedov.
READ MORE: 'Even Conor the coward can't quit at this!': Malignaggi challenges McGregor to bare knuckle bout
The bad blood between McGregor and Malignaggi stems from their sparring session ahead of the Irishman's boxing bout with Mayweather in the summer of 2017.
'The Notorious' has posted numerous pictures of himself appearing to floor Malignaggi in the session, although the American disputes the narrative that the MMA man got the better of him.
Malignaggi's next opponent, Lobov, told RT Sport in March: "I was there. I was present at the sparring session. It was a very one-sided sparring session.
"He got pounded out, he got dropped, [it was] an easy spar for Conor. Paulie didn't have anything to offer."
Lobov has vowed to "break Malignaggi's jaw" when the pair meet on June 22 at an event planned forDurham, New Hampshire.
Also on rt.com
'Paulie Malignaggi calls out Conor, but I'll break his jaw': McGregor teammate Artem Lobov (VIDEO)
You can share this story on social media: