'F***ing insanity!' Paul Pogba's 'shock' inclusion in PFA Team of the Year splits fans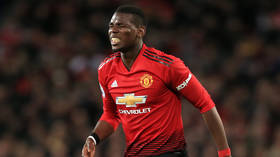 The inclusion of Man United's Paul Pogba in the PFA Premier League Team of the Year has split fan opinion, with some claiming the French World Cup-winner doesn't deserve his place, despite the team being picked by fellow pros.
After it was reported Liverpool's defensive rock Virgil van Dijk was to be named PFA Players' Player of the Year on Tuesday, news broke that midfielder Pogba had been chosen in the vote among his fellow professionals to become the only player from neither Manchester City or Liverpool, who deservedly occupy the Premier League's top two spots, to make it into the XI.
Pogba was chosen as part of a midfield three of himself, cross-town rival Fernandinho and the Brazilian's teammate Bernardo Silva, who has been a revelation for City this season, with manager Pep Guardiola hailing the winger's season a "masterclass".
Another City Brazilian - stopper Ederson - was chosen as the league's best keeper, breaking a four-season run from United's David De Gea of occupying the team's number one jersey.
The team of the year's defense featured just one of the back four who kept a clean sheet at Old Trafford on Wednesday night, with Aymeric Laporte lining up alongside Liverpool trio Trent Alexander-Arnold, van Dijk and Andy Robertson. All three have been instrumental in a tight defense which has conceded just 20 goals - the least goals of any team so far this season.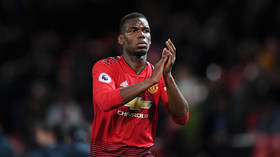 Few could argue with Sergio Aguero and Raheem Sterling claiming a city majority in a front three alongside Sadio Mane; a clinical City attack has scored the most goals of any team in the Premier League this season with 89.
It seems not all were convinced of Pogba's credibility and questioned whether he 'deserved' to be in the team, some blaming social media for swaying the vote, despite the privilege to select the team being solely afforded to fellow pros from a shortlist decided by members of the Professional Footballer's Association, the players union.
United have been less than underwhelming this season, lying in sixth place and battling rivals Chelsea and Arsenal for that all-important fourth Champions League spot. A painful, home derby day defeat to neighbors City on Wednesday night becoming their fifth defeat this month from six matches played. Pogba has fronted the blame for a perceived lack of effort on a number of occasions.
If ever you want to sum up a player getting into a team solely on reputation & social media presence, it's Pogba getting in the PFA Team of the Year.That is actually offensive. A good month or two and otherwise absolutely abysmal.

— Henry Jackson (@HenryJackson87) April 24, 2019
I can't get over Pogba being in the PFA Team of the year. Fucking insanity

— James Jarvis (@RealJamesJarvis) April 25, 2019
Koma why is Pogba in the team of the year, someone really needs to explain that to me

— Upcoming Sugar Daddy (@The_RavingKing) April 25, 2019
How pogba is in the team of year il never no , wouldn't put him in the championship team of the year

— Bevs (@scottbevans1) April 25, 2019
Take away Pogba's penalty goals and rebounds from missed penalties and he has less goals than Ruben Loftus-cheek who has only made seven premier league starts this season pic.twitter.com/Gc5sE8b31s

— Mod (@CFCMod_) April 25, 2019
・ 30 Premier League starts・ 16 goals・ 13 assists ・ 12 Man of the Match awards・ 122 dribbles・ 89 chances createdBut Eden Hazard doesn't make it into the PFA Team of the Year, yet Paul Pogba does. Wow. #CFC 🔵 pic.twitter.com/wxnSUXnVbO

— Absolute Chelsea (@AbsoluteChelsea) April 25, 2019
Questions were also raised as to the exclusion of last year's PFA Player's Player of the Year award winner Mohamed Salah, and want-away Chelsea winger Eden Hazard, both of whom have been crucial to their respective side's varying success this season.
As for Pogba and United, the Old Trafford club have currently not scored in some 4 hours and 40 minutes of football since Pogba's brace of penalties helped them limp to a 2-1 home win against West Ham. Perhaps more worryingly, their last goal from open play came nearly nine hours ago.
But when United have found the net, Pogba has been involved in a total 22 goals this term, contributing 13 goals from midfield and a further 9 assists, and it is that personal performance that has led to other sections of supporters hailing his selection.
Pogba (a central midfielder) has directly contributed to 37% of the total goals united have scored and man are trying to pretend he hasnt been good. Goodness me #TouchlineFracas

— #DISUNOMICS (@_NOMICS) April 25, 2019
I see Pogba was voted into the team of the season by his fellow professionals. What do they know? Clearly spend far too much time on the football pitch and not enough on Twitter

— Matt Spiro (@mattspiro) April 25, 2019
Pogba named in the Team of the Year (which is selected by the players).Could it be that, perhaps, current players understand the game better than people who stopped playing a decade or more ago?

— Andrew Cesare (@AndrewCesare) April 25, 2019
A wayward season for the Reds saw them begin the seasons at what turned out to be the much-maligned tail-end of Jose Mourinho's reign, with whom Pogba had a prolonged and public spat which peaked at the former depriving his skipper of the captain's armband.
General consensus back then dictated that Pogba was a 'virus' in the United camp, especially as the £90 million ($115 million) signing had seemingly under performed since his arrival in 2016, and the 26-year-old suffered a character and attitude assassination from sections of the press, ex-players and fans.
That narrative intensified when further poor collective performances culminated in the Mourinho's dismissal in December, but were somewhat dispelled when United legend Ole Gunnar Solskjaer replaced the Portuguese at the United helm, with Pogba playing a pivotal role in an upturn in United's results.
With that upturn becoming a turn for the worst of late, Pogba has his work cut out to quieten the doubters in the Reds' remaining three Premier League games as the club pushes for that invaluable last place in Europe's premier competition.
Also on rt.com
Liverpool's Virgil van Dijk set to be announced PFA Player of the Year - reports