UFC St. Petersburg: Recap the action as Alistair Overeem finishes Aleksei Oleinik in Russia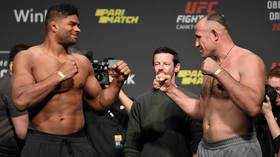 Recap our live fight-by-fight updates from the main card in St. Petersburg as Dutch MMA star Alistair Overeem capped off an exciting night of fights with a strong performance - and a TKO finish.
20 April 2019

20:16 GMT

THAT'S ALL WE HAVE FROM ST. PETERSBURG TONIGHT

Thanks for joining us here on the RT Sport live blog.

Here are your full results:

MAIN CARD
Alistair Overeem def Alexei Oleinik via TKO, Round 1
Islam Makhachev def Arman Tsarukyan via unanimous decision (30-27, 30-27, 29-28)
Sergei Pavlovich def Marcelo Golm via KO, Round 1
Roxanne Modafferi def Antonina Shevchenko via split decision (29-28, 28-29, 29-28)
Krzysztof Jotko def Alen Amedovski via unanimous decision (30-25, 30-26, 30-26)

PRELIMINARY CARD
Movsar Evloev def Seung Woo Choi via unanimous decision (29-27, 29-27, 29-26)
Sultan Aliev def Keita Nakamura via unanimous decision (30-27, 30-27, 30-27)
Alexander Yakovlev def Alex da Silva Coelho via submission (modified guillotine choke), Round 2
Shamil Abdurakhimov def Marcin Tybura via TKO, Round 2
Michal Oleksiejczuk def Gadzhimurad Antigulov via KO, Round 1
Magomed Mustafaev def Rafael Fiziev via TKO, Round 1

19:34 GMT

OVEREEM GETS THE FINISH!

Alistair Overeem weathered an early storm from Aleksei Oleinik, who battered the Dutchman with strikes in the clinch and looked to test him on the canvas, before finishing the Russian grappling ace with 15 seconds remaining in the opening round of the main event.

Overeem stayed cool despite being peppered with a plethora of body punches from Oleinik early on. And after waiting for his moment to strike, the Dutchman eventually turned to his own striking to turn the bout to his own advantage.

Some powerful knees from the clinch turned the tables for 'The Demolition Man' as he eventually sent Oleinik to the mat, where he covered up as Overeem put the finishing touches on the 23rd knockout victory of his mixed martial arts career.

After the fight, Overeem said he would be open to a return to Russia to face the man he was originally scheduled to face in tonight's main event - Alexander 'Drago' Volkov.

19:16 GMT

OVEREEM vs OLEINIK

It's time for the main event, as two of the most experienced - and most dangerous - heavyweights in the world go head to head.

Alistair Overeem will be competing in bout number 63 of his stellar career, while Oleinik will contest his 70th.

And both men are prolific finishers, too. Overeem has finished 39 of his 44 fights, while Oleinik has defeated 53 of his 57 opponents inside the distance.

In short... don't blink!

Overeem is a top-drawer striker with serious submission skills, while Oleinik is a pure grappler with a staggering 45 submission victories to his name.

Don't take your eyes off this one. It could be over in the blink of an eye.

19:11 GMT

MAKHACHEV GETS THE WIN, BUT IT WASN'T EASY

Rising Russian lightweight star Islam Makhachev picked up the win many expected to see against Armen Tsarukyan, but he was made to work a lot harder than many people - including Makhachev himself - expected.

The pair fought back and forth in a highly-entertaining lightweight battle in the night's co-main event as they fought all the way to the judges' scorecards.

Makhachev earned the unanimous decision with scores of 30-27, 30-27, 29-28 to move one step closer to the division's big guns, but based on that debut display, Tsarukyan might not be too far behind him.

18:38 GMT

MAKHACHEV vs TSARUKYAN

It's time for our co-main event bout, as lightweights Islam Makhachev and Arman Tsarukyan go head to head looking to catapult themselves up the super-stacked UFC 155-pound division.

Tsarukyan is on an 12-fight win streak as he makes his UFC debut, but he'll do so against one of the most dangerous rising prospects in the division.

Makhachev is 16-1 and trains out of the same team that produced Khabib Nurmagomedov, and 'The Eagle' is sat at octagonside to watch his friend and teammate go to work here in St. Petersburg tonight.

18:28 GMT

PAVLOVICH BRINGS THE POWER

Russian heavyweight Sergey Pavlovich wasted absolutely no time against Marcelo Golm as he planted his feet and threw heavy leather at the Brazilian to score a crowd-pleasing first-round knockout.

Both men looked to stand and trade early, but Pavlovich's punch power was clearly the more destructive, as he forced Golm backwards against the cage before finishing him with a crushing uppercut that sent the Brazilian slumping to the canvas as the referee stepped in.

It took Pavlovich just 66 seconds to get the job done, as the hard-hitting Russian announced his arrival as a real threat in the UFC heavyweight division.

18:15 GMT

PAVLOVICH vs GOLM

Heavyweights are heading to the octagon next, as Russian Sergei Pavlovich gets set to face Brazilian Marcelo Golm in a battle of heavyweight prospects.

Pavlovich arrived in the UFC as an undefeated prospect with 9 knockouts from his 12 career wins, but ran into a brick wall named Alistair Overeem on his first octagon appearance as he suffered his first career defeat. Now he's looking to rebound with a win against Brazil's Golm, who has lost his last two bouts and hasn't picked up a win since 2017.

Both men like to get their work done quickly. With each and every one of their stoppage wins coming in the very first round. But who'll bounce back into the win column tonight?

18:09 GMT

'THE HAPPY WARRIOR' CLAIMS HUGE WIN

The bout was a story of two contrasting styles, with Shevchenko dominating the striking exchanges, but Modafferi bossing the action when she gets the fight to the canvas.

Both women had their successes, but it was Modafferi's dominance on the mat, particularly in the third and final round, that proved the difference-maker as she scored a huge victory via split decision after three hard-fought rounds.

The scorecards read 29-28, 28-29, 29-28 in the American's favor as she handed Shevchenko the first defeat of her mixed martial arts career and moved up the UFC women's flyweight ladder.

17:41 GMT

MODAFFERI vs SHEVCHENKO

America's Roxanne Modafferi faces off against Kyrgyzstan's Antonina Shevchenko in a battle of rising women's flyweight prospects who have their sights set on the top of the division.

Modafferi is a pioneer of the sport and a fan favorite whose positive outlook and cheery demeanor has led to her nickname 'The Happy Warrior'.

But Modafferi knows she'll need a lot more than a positive frame of mind to defeat Shevchenko, who is the sister of flyweight world champion Valentina and a decorated Muay Thai striker in her own right.

And Shevchenko is clearly confident of victory, as her pre-fight promo video showed her stating her intention to win by first-round KO was shown to the crowd inside the arena.

"I promised to go knock her out in the first round and then go drink tea with my friends." -- Antonina Shevchenko's pre-fight sizzle reel just now, before taking on Roxanne Modafferi.

— Brett Okamoto (@bokamotoESPN) April 20, 2019

17:34 GMT

TOTAL DOMINATION FOR JOTKO

They often say that sport is all about levels, and we just witnessed a clear example of that as Jotko totally dominated Amedovski to earn scores of 30-25, 30-26 and 30-26 on the judges' scorecards as he celebrated with some octagon breakdancing.

With tonight's fight being the last on his current UFC contract and his three-fight losing streak heading into the fight, Jotko badly needed that victory, and he told Dan Hardy in the octagon that he hopes his dominant victory will earn him a new deal with the UFC.

The official stats show just how dominant Jotko was, with the Pole landing 118 total strikes to just 8 for Amedovski, who simply did not get a look in.