Thrills & spills: 5 classic Premier League title race moments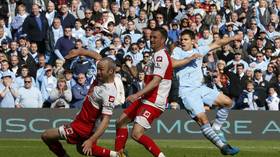 From Sergio Aguero's last minute strike to Leicester City's improbable march to the title, the Premier League has given us some incredible climaxes to the season in recent years - and it looks like we're set to experience another.
Liverpool and Manchester City continue to battle it out in one of the closest title races in years, with City heading to crosstown rivals United in a crunch game on Wednesday night.
READ MORE: Man Utd v Man City: The derby one set of fans might not want to win
It could be a decisive moment in this year's title race, but ahead of that game we've brought together some of the most memorable moments that the competition has given us down the years as part of teams' title-winning, or title-losing, stories.
2011-12: AGUERRROOOO!
Perhaps the single greatest moment in the history of the Premier League. As Pep Guardiola's side attempt to manoeuvre their way to another Premier League crown, perhaps the Spaniard could look back a few years to how former City boss Roberto Mancini masterminded the most unlikely, last-gasp title win ever seen in English football.
Manchester City at this point were still chasing their first Premier League crown and looked to have come up short when city rivals United won away at Sunderland to inch closer to claiming the top prize, leaving City needed two goals to clinch the title as the game ticked into injury time.
A 92nd-minute goal from Edin Dzeko gave Mancini's side hope but when Sergio Aguero latched on to a pass from Mario Balotelli to score in the 94th minute it unleashed pandemonium in the stands, as well as commentator Martin Tyler's now famous "Aguerrroooo! I swear you'll never see anything like this ever again!" call.
2015-16: The 5,000/1 Shots
Upsets, they say, happen in sport quite frequently but to continually upset the odds, time and time again over the course of a 38-game season? That just doesn't happen, or so say the bookies. It was a mistake which would cost them millions.
Also on rt.com
Leicester's Premier League title win sparks wild celebrations
Leicester City, almost relegated a season prior, began the season strongly as Claudio Ranieri's stewardship propelled by the undoubted talents of Jamie Vardy, Riyad Mahrez and N'Golo Kante ushered them up the table.
Christmas came and went and by springtime, long after their title bid was supposed to have run out of steam, it was looking more and more likely that we were about to see the unlikeliest English champions of the Premier League era.
The Foxes ultimately clinched glory without having to kick a ball, when nearest challengers Tottenham Hotspur were held to a 2-2 draw at Chelsea in a classic encounter dubbed 'The Battle of the Bridge' for its fiery nature.
Watching on from Jamie Vardy's kitchen, the Leicester players erupted with joy when they were confirmed as Premier League champions, in some of the most memorable scenes the division has ever seen.
It was said that in England alone, more than £25 million (€28.8 million) was paid out to those fortunate enough to have laid down money on Leicester winning the league - a sum which ensures that similar odds will never be offered again.
1995-96: "I would LOVE IT if we beat them"
It was as if you could pin point the exact moment that Newcastle United lost the league. Kevin Keegan's entertainers, led by the likes of Les Ferdinand, Peter Beardsley and David Ginola, had amassed a 12-point lead as the English title race entered its third act. Soon though, it was gone.
As with anything involving Sir Alex Ferguson, the matter wasn't fully decided until the proverbial fat lady begins to sing and Manchester United clawed back points as Newcastle began to flounder. In late April of 1996, Keegan's team won 1-0 at Leeds to bring them to within three points of United, with a game in hand and just two to play.
His feathers well and truly ruffled by Ferguson's mind games, Keegan lost his cool live on air in an interview with Sky Sports.
"You can tell him now, we're still fighting for this title and he's got to go to Middlesbrough and get something - and I'll tell you, honestly, I will love it if we beat them. Love it."
They didn't.
2013-14: Steven Gerrard lets the title slip away
While they are the favorites to win the Premier League this season, being a Liverpool fan brings with it a certain sense that anything that can go wrong WILL go wrong. Enter Steven Gerrard.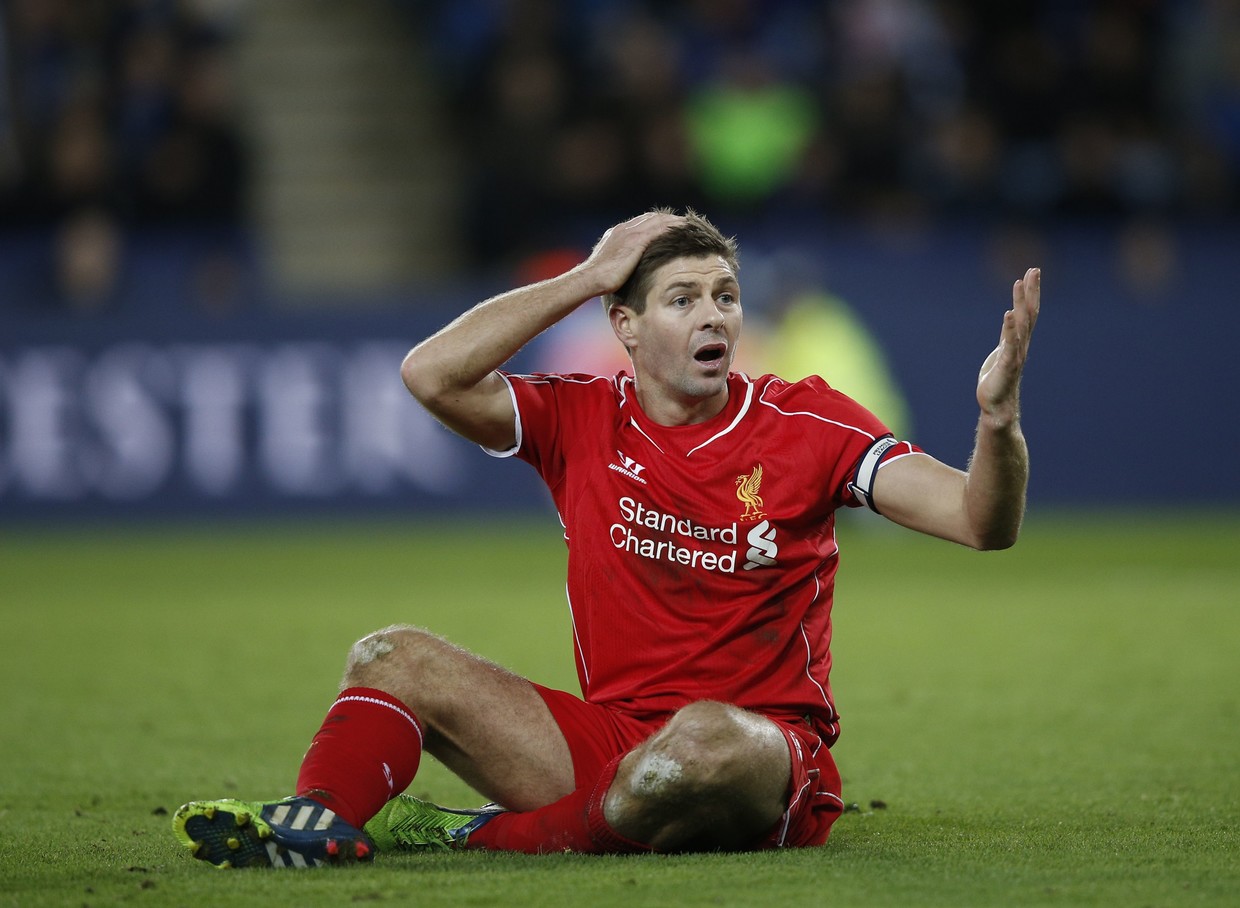 The Liverpool skipper was at the forefront as Liverpool challenged for the league title but in a home match with Chelsea he endured possibly his single worst moment in a red jersey. As they are today, five years ago Liverpool were battling with Manchester City for top spot and had gathered a respectable lead atop the table. Following a home win prior to the match with Chelsea, Gerrard implored his teammates that they are not to "let this slip." Hindsight dictates that could have chosen his words a bit more prudently.
45mins: Goal for Chelsea - Demba Ba takes advantage of a slip by Steven Gerrard to run through and put the visitors ahead #LFC 0-1 #CFC

— Liverpool FC (@LFC) April 27, 2014
In the Chelsea match Gerrard, who was receiving a ball in midfield, allowed it to slide under his foot and when he attempted to regather it, he slipped on the slick Anfield turf allowing striker Demba Ba an unimpeded route to the goal effectively ending Liverpool's title chances.
1998-99: Manchester United's historic treble season
OK, so it's not strictly just a Premier League moment, but in 1998-99, United's league triumph was one side of an historic treble.
There was an air of inevitability to Sir Alex Ferguson's team 20 years ago. They were undeniably the best team in England, as evidenced by a sustained period of domestic success.
But guided by the likes of Roy Keane and Ryan Giggs, they were still forced into a tense title race with Arsenal, only sealing the title with a come-from-behind win against Tottenham on the final day of the season, which meant they pipped the Gunners to the title by one point.
After then claiming the FA Cup, immortality beckoned with the chance to add Champions League glory to cap their season off – which they duly delivered with an incredible comeback win against Bayern Munich in the Nou Camp.
Ole Gunnar Solksjaer scored the winner in injury time. Today, almost exactly two decades later, he finds himself in Ferguson's seat in the dugout as he and United look to plot their way back to significance after a barren few years since the great Scotsman's retirement.