UFC star Darren Till ordered to pay damages and compensation following Tenerife 'taxi theft'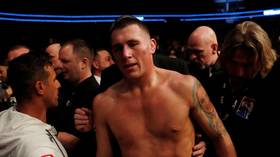 Former UFC welterweight title contender Darren Till has been ordered to pay damages by a Spanish court after being convicted of destroying a hotel room and 'stealing' a taxi while on holiday in Tenerife.
Till, 26, who was defeated by second-round knockout by Jorge Masvidal in the recent UFC London event, was detained last Thursday on the largest of the Canary Islands after reportedly driving a taxi away as the driver loaded luggage into the trunk.
Till was detained by police at around 8am on Thursday of last week and he was held for almost two days.
Also on rt.com
Grief in Tenerife: UFC star Darren Till arrested for stealing a taxi in Canary Islands – reports
The fighter and his friends were ordered to pay a fine of over €800 (US$900), as well as more than €9,800 damages after it was alleged that Till and the others, understood to be four British holidaymakers, vandalized a hotel.
The group are reported to have lashed out in a hotel lobby after being denied early check-in after being asked to leave a nearby luxury hotel. Spanish media reports that Till's entourage broke furniture and deployed fire extinguishers.
Till and his group admitted wrong-doing as part of a plea deal which prevented a harsher punishment.
Court officials confirmed the details of the case to British media, saying: "Court of Investigation Number Four in Arona, acting as a duty court on Saturday, sentenced five British men for different incidents that occurred last Thursday. The men admitted wrongdoing.
"The sportsman [Darren Till] and another man were sentenced as authors of a crime of damage and unauthorised use of a vehicle.
"For the crime of damage they were ordered to pay £415 (€478) each and for the crime of authorised use of a vehicle they were told to pay a fine of £310 (€357) each.
"Together with the three other accused they were ordered to pay the hotel where they caused the damage £8,665 (€9,992)."
Also on rt.com
Jorge Masvidal knocks Darren Till out cold in stunning UFC London upset (VIDEO)
Till is prohibited from appealing the decision because he admitted wrong-doing.
The Liverpool fighter's next move in the UFC remains unclear following successive defeats to former 170lb champion Tyron Woodley and Masvidal.