'How much do you charge?' Russian star Medvedeva subjected to vile abuse over latex outfit (VIDEO)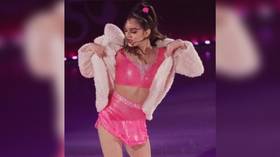 Russian figure skater Evgenia Medvedeva has faced vile social media abuse following her performance at the Ice Fantasia show in South Korea, with some followers finding her latex pink outfit too revealing.
The two-time world champion presented a new exhibition routine to Ariana Grande's hit "7 rings", donning a pink latex top, skirt and high stockings which were deemed "vulgar" and "inappropriate" by some fans.
READ MORE: Pretty in pink: Russian figure skating star Medvedeva wows fans with latest outfit
Derogatory messages flooded Medvedeva's Instagram page after pictures of her "sexy" routine emerged online, including one user appearing to compare her to a prostitute by asking: "How much do you charge for an hour?"
"Two vegan burgers," replied Medvedeva, who herself invited followers to make "the harshest comments" under her picture, apparently bracing herself for what followed.
"Zhenya everything is great, but you are too old for this role. After Anna Karenina (Medvedeva's Olympic routine) this weird pink performance makes you look cheap," another person added.
"When you found out that Zagitova unfollowed you and you can finally make 18+ party," one more fan wrote, referring to the latest news in the Russian media which said that the reigning world and Olympic champion Alina Zagitova had stopped following Medvedeva on Instagram.
A number of users drew direct parallels between Medvedeva and well-known teammate Elizaveta Tuktamysheva, who set the so-called 'striptease' trend in figure skating this season.
"Tuktamysheva will be jealous," a fan wrote, while another added: "You've decided to copy Tuktamysheva's dance."
"You have plunged into dissipation," one comment read.
"This is what happens when you lost a strip poker game," a user commented on the skater's pink-themed routine.
"You have made a monkey out of the champion. You should fire your PR manager," one more person wrote.
Medvedeva, who had struggled throughout the entire season, managed to return to form to finish third at the world championships, winning her first international award since the 2018 Winter Olympics.
You can share this story on social media: