Pretty in pink: Russian figure skating star Medvedeva wows fans with latest outfit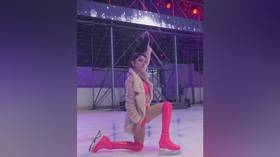 Russian figure skating star Evgenia Medvedeva proved she is pretty in pink as she impressed her Instagram followers with a particularly striking outfit as she took to the ice in Seoul.
Two-time world champion Medvedeva, 19, is currently in South Korea, where she is taking part in the Ice Fantasia show along with a number of fellow stars from the world of figure skating.
The Russian took the time to show how preparations for the show were going, as well as offering a peek at one of her outfits as she posted a picture to her 746,000 followers on Thursday.
Medvedeva is seen is pink boots and latex knee-high stockings, with a mini-skirt and crop top to match, covered by a sheepskin-style coat.
"Somethin' pink," the skate star wrote along with the message.
The picture has racked up well over 150,000 'likes' and clearly went down well with fans, who wrote responses such as: "My life never will be the same after this outfit."
Medvedeva recently claimed bronze at the World Championships in Japan, where she later revealed she had skated through the pain to complete the event.
Also on rt.com
'The pain gave me strength': Russian star Medvedeva reveals World Championships injury battle
She commands a big fan following in Asia in particular, along with fellow Russian skating starlet Alina Zagitova.
You can share this story on social media: