'The greatest comeback I've ever seen': Michael Jordan hails Tiger Woods' dramatic Masters triumph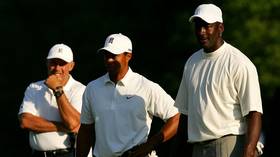 NBA legend Michael Jordan has paid tribute to Tiger Woods following the golfer's remarkable return to the top of the sport at the Masters last weekend, calling it "the greatest comeback I've ever seen."
Jordan called Tiger Woods to congratulate him following his dramatic resurgence at Augusta last weekend as Woods captured his first Masters title since 2005.
And speaking to journalist David Aldridge for US-based sports website The Athletic, Jordan heaped praise on the golf superstar, whose incredible return to form at the famous Georgia course capped a remarkable rise from the doldrums after his life and career took a major hit with personal issues and a succession of back surgeries that halted his time at the top.
Also on rt.com
Roaring back: Tiger Woods wins Masters to clinch first major since 2008
Jordan recognized the achievement and said that Woods' comeback eclipsed his own return to the NBA after he swapped sports to play baseball back in 1995.
"I took two years off to play baseball, but nothing like that," Jordan told The Athletic.
"I'm pretty sure he questioned himself, whether he could get it back, and he had to put a lot of work in. But he took it head-on.
"He had to change his game; he had to change his perspective a little bit. To me, it was the greatest comeback I've ever seen."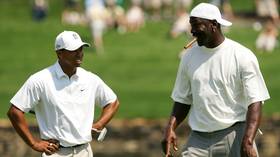 Woods stepped away from the game from December 2009 to April 2010 to deal with marital issues with then-wife Elin Nordgren, then spent much of the time between 2014 and 2017 on the shelf as he underwent four back surgeries.
It saw Woods fall out of golf's top 1,000 players, but he has since found his form once again, capturing the Tour Championship in September 2018 and then following up with his headline-making success at Augusta last weekend.
Also on rt.com
'One of the greatest comebacks in history': Reaction as Tiger Woods wins first major in a decade
And Woods' return surpassed Jordan's expectations for the golfing superstar, with the NBA legend admitting he didn't think Woods would ever fully make it back to the top of the game.
"I never thought he'd get back physically," he admitted.
"He didn't think he'd get back physically. But he did it. No one expected him to be back the way he is now. He's probably the only person who believed he could get back.
"To me, that's a major accomplishment. To me, it's unbelievable. Mentally, you always think you can. But you can't answer to what your body has to deal with.
"His confidence is only going to build from here."
Also on rt.com
From Pele to Zanardi: Top 5 sporting comebacks of all time