Paying the price: Juventus shares PLUNGE after Champions League exit to Ajax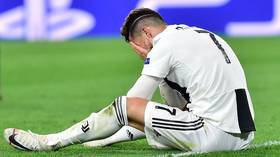 The UEFA Champions League woes of Juventus were felt far beyond the pitch as the Italian giants' share price dropped by more than a fifth on Wednesday morning, after the club suffered a quarter-final exit at the hands of Ajax.
The Dutch team dumped Juve out in Turin with a 2-1 victory on the night which handed them a 3-2 aggregate win in the tie.
Also on rt.com
Ajax dump Juventus and Ronaldo out of Champions League as Dutch giantkillers do it again
That was despite Juve taking the lead through Cristiano Ronaldo – the man they paid in excess of $100 million for in the summer to help them end their 23-year wait for Europe's biggest club prize.
The agony of the defeat was writ large on players' and fans' faces at the Allianz Stadium, but have now been reflected in the club's financial affairs.
Shares in 'The Old Lady' fell 22 percent in early trading in Milan on Wednesday before recovering slightly to a 17 percent loss at €1.40 ($1.58) per share.
Ajax's contrasting fortunes were also reflected in trading in Amsterdam, where their share price was up by 7.58 percent, which puts the club's total value at €314 million ($350 million).
Juve had seen a surge in their share price after their thrilling last 16 win over Atletico Madrid, when Ronaldo netted a second-leg hat-trick to put the team into the quarter-finals.
But they have now come back down with a bump after Max Allegri's team exited Europe's premier club competition – which they last won in 1996, when they beat Ajax in the final.
Also on rt.com
Messi marches on, Ronaldo bows out: Reaction to UCL drama as Barca through, Juve out
Juventus are still set to clinch an eight successive Serie A title as they sit 17 points clear at the top of the table.
But as the club's share price shows, domestic glory is little solice when the club has its eyes on much bigger riches.