'He secured the bag!': Twitter reacts to NFL star Russell Wilson's record-breaking new contract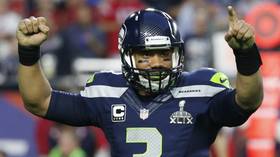 Late on Monday Seattle Seahawks star Russell Wilson agreed a $140 million, four-year contract that made him the most highly-paid player in NFL history. His deal - and his announcement - drew plenty of reaction on social media...
Wilson announced his record-breaking deal while in bed with his popstar wife Ciara, telling his followers: "Hey Seattle, we got a deal! Go Hawks!"
Wilson's deal came after lengthy negotiations between his agent and the Seahawks management and eventually saw the player compromise on his original demand to have his contract tied to a portion of the NFL salary cap - an unprecedented stipulation in an NFL player deal.
In the end, that stipulation was waived by Wilson after the Seahawks offered him a boosted signing bonus of $65million to accompany his $35 million per year deal.
It all happened just 30 minutes before Wilson's deadline of midnight last night and resulted in the Seattle quarterback committing himself to the team for the next four years in return for the biggest contract in NFL history.
As you might expect, news of Wilson's blockbuster new deal was greeted by plenty of reaction online, with Wilson's former Seahawks teammate, safety Earl Thomas, congratulating the quarterback on his new contract, while current teammate, linebacker Bobby Wagner, also tweeted his congratulations.
Wilson's wife Ciara also shared her happiness with her Twitter followers, telling them she was: "Soooo proud of y live @DangeRussWilson. So excited Seattle is home! God is so good. The hardest working man I know. You inspire me so much."
US sports talk presenter Clay Travis noted the way Wilson delivered the news to his fans and likening it to some basketball showboating, tweeting: "Gotta say, Russell Wilson getting a $140 million contract and announcing it from bed with Ciara laying beside him feels like dunking and hanging on the rim."
Sports blogger and podcaster Andrew Porter suggested the bumper payday for Wilson was simply what the Seahawks quarterback deserved, tweeting: "Russell Wilson should be the highest paid player in the NFL. He is the league's best player."
Wilson was understandably more than pleased with the role his agent Mark Rodgers played in landing him his huge new contract, and he showed that appreciation with a public tweet of thanks.
And Seahawks fans will be rejoicing that they will get to see more brilliant plays like this in the next four years...