'Hell awaits you': Rugby star Israel Folau again at center of anti-gay slur row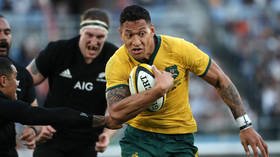 Australian rugby ace Israel Folau has again stoked an anti-gay controversy on social media by claiming again that "hell awaits" a list of sinners, including homosexuals, if they don't repent.
"Those that are living in Sin will end up in Hell unless you repent. Jesus Christ loves you and is giving you time to turn away from your sin and come to him," the 30-year-old wrote on Instagram, along with a series of biblical scriptures.
The Wallabies star was embroiled in a huge scandal last year after voicing his rigid stance on same-sex relationships, stating that gay people will go to hell "unless they repent of their sins and turn to God."
His remarks triggered an uproar on social media with many fans and players condemning Folau for his "homophobic" and "discriminatory" attitude to gay people.
Despite an avalanche of criticism, he stood firm in his staunch beliefs, emphasizing that his religious convictions are "something personal with who [he is]." Folau also managed to avoid any punishment from Rugby Australia, the country's rugby governing body.
The social media fuss surrounding the player was slowly fading into oblivion after Folau decided to concentrate more on the game rather than on 'religious wars.' However, the man who became Super Rugby's all-time top try-scorer last week, reignited the off-court debate by posting yet another religious 'reminder' on his Instagram page.
It remains unknown whether the deeply religious fullback will avoid disciplinary punishment this time around after sharing the controversial message.
Also on rt.com
Australian rugby star Israel Folau 'enjoyed' controversy over anti-gay comments
You can share this story on social media: