'Embarrassing': MLS player in 'worst ever Panenka attempt' before Zlatan scores rocket (VIDEO)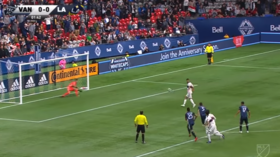 When Panenka penalties go in they can be one of the most sublime sights in football, but they can also go badly, badly wrong – as Ali Adnan of the Vancouver Whitecaps found out to his embarrassment against the LA Galaxy in MLS.
Home team the Whitecaps were awarded a penalty inside the first minute of their match against the Galaxy on Friday night, when Lass Bangoura was brought down by Jorgen Skjelvik.
Up stepped 25-year-old Iraqi international Adnan, who is on loan at the Canadian club from Udinese in Italy's Serie A.
READ MORE: 'Worst penalty in history': Footballer suffers spot-kick shocker as he sends ball SIDEWAYS (VIDEO)
Clearly confident, and with the Galaxy's very own Panenka specialist Zlatan Ibrahimovic watching on from the edge of the box, Adnan attempted to cheekily chip the ball over opposition 'keeper David Bingham.
But disastrously for the Iraqi and the Whitecaps, he failed to get any lift or distance on the ball, dinking a lame left-footed effort which fell short of the line, and which was gather up by a grateful Bingham.
Some online have asked whether it was possibly the "worst Panenka attempt ever," while others simply mocked the hapless Adnan, who simply wiped his face with his shirt after his tame effort, before running back to position.
Opposition striker Zlatan – who scored a well-executed Panenka of his own against Portland last week – later showed him how finishing was done, blasting in a volley from inside the box on 71 minutes after bringing the ball down expertly.
That put the Galaxy 2-0 up, with Daniel Steres having given the away team the lead on 61 minutes at BC Place in Vancouver.
READ MORE: 'Never seen anything like it': Messi scores 'Panenka' free-kick as Barca beat Espanyol (VIDEO)
Zlatan and co have four wins and one defeat from their first five games of the season, and sit second in the Western Conference table, one point behind crosstown rivals LAFC.
Defeat for Vancouver meant they failed to add to the solitary point they have picked up this season, as they languish third from bottom in the table.