Rally drivers avoid tragedy, escape car as it bursts into flames mid-race (VIDEO)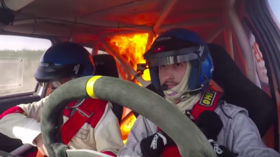 Stunning video footage has emerged of a potentially catastrophic accident that occurred during a recent rally in Argentina, in which two drivers had to make a quick exit as flames and thick smoke engulfed their car.
Ezequiel Castanon and his co-driver Julian Arzeno were forced to abandon their car after a fire broke out in the back seat of their vehicle in the 'La Pepita' stage of the Rally de Ranchos race in Buenos Aires, Argentina recently.
READ MORE: Keepy-uppy queen - Meet Harriet Pavlou, the freestyle juggler on heels
The drivers noticed the fire within seconds as they traveled at high speed, forcing the pair to bring the car to an immediate halt and undo their seatbelts to make a hasty escape before the noxious smoke and flames fully took hold.
Footage of the dramatic incident was captured on Castanon's in-car camera.
Neither driver was hurt in the incident, and Castanon later praised the quick thinking of on-site fire personnel who minimized the damage to their vehicle.
Writing on Instagram following the incident, Castanon said: "I want to thank the authorities of the La Pepita special event, above all the firefighter who was at the end of the track, as well as Sergio Centorame and my navigator @julianarzeno.
"Without them the car wouldn't have been saved.
"Secondly I want this to be useful for drivers and navigators, how I drove in the dangerous situation, reaching the end of the stage knowing that there is always a firefighter there, I was lucky there was at the end."
Also on rt.com
Ex-UFC champ Alvarez shows off horrific eye injury, congratulates Russian who KO'd him in ONE debut
You can share this story on social media: