Keepy-uppy queen: Meet Harriet Pavlou, the freestyle juggler on heels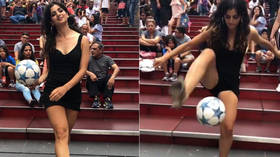 British football freestyle juggler Harriet Pavlou has gained international fame for her fancy keepy-uppy skills, videos of which she regularly posts on social media as her army of followers swells.
READ MORE: 'Animals': Aussie rules footballer Tayla Harris slams 'sexual abuse' online over all-action pic
Her meteoric rise to prominence happened several years ago when she published a video of her tricky ball jangling routine taken in her backyard.
The Facebook video caught the attention of Danny McGhee, the founding member of Global Freestyle, who invited Pavlou to take part in a show called Undercover Auditions, making her an internet star.
The football-mad juggler represented England and Arsenal at youth level but was forced to quit sports as she lived far away from London where she trained.
"I started playing for Arsenal at 18, but it got difficult to travel to London because I live so far away, so I stopped. Did score quite a few goals before, but I played more behind the strikers in a number ten role," she said.
The 28-year-old often shares pictures and videos on social media proving that high heels are not an obstacle for immaculate footwork.
Once she even attempted to reproduce Cristiano Ronaldo's phenomenal footwork, earning praise from her followers who call her 'the queen of freestyle'.
You can share this story on social media: