'Scumbag!' Footage emerges of boxer Shakur Stevenson attacking men & women at Miami garage (VIDEO)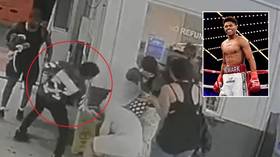 Disturbing footage has emerged showing Olympic boxer Shakur Stevenson apparently instigating a fight with a group - including two women - and proceeding to throw a barrage of punches at a floored victim at a gas station in Miami.
The incident reportedly happened as American Stevenson, who has since turned professional and won each of his 10 fights, was out celebrating his 21st birthday in July of last year in South Beach, along with fellow boxer David Grayton.
According to a police report, the incident unfolded when Stevenson's group made sexually explicit comments to the other party.
Footage from the garage shows Stevenson, a 2016 Olympic silver medalist, and his entourage become involved in an altercation where the boxer, dressed in a camouflage top, can be seen to throw the first blow at a man in a white hooded top, making contact with a woman attempting to keep the peace in doing so
After throwing the punch, Stevenson is seen backing away, while another man in a white vest, believed to be Grayton, approaches the attacked party and beats a second woman to the floor, before striking the first woman.
When the man in the hooded top begins to fight back against Grayton, Stevenson hits him from behind, sending him to the floor. Both Grayton and Stevenson then proceed to pummel the man on the ground.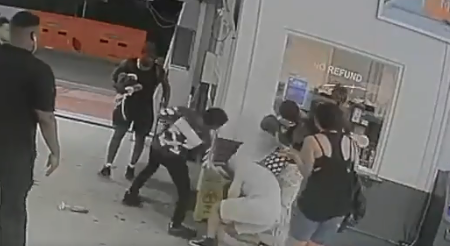 As the plucky second woman suddenly bravely retaliates against Grayton, Stevenson continues to attack the man, connecting with a series of blows to the defenseless man's head from behind.
Stevenson is unable to knock the man unconscious despite a succession of free shots, and instead is forced to position himself around the man to deliver another unsuccessful punch, before eventually causing his victim's body to slump to the concrete with an uppercut to the jaw, at which point Grayton reappears to kick the man for good measure.
Emergence of the footage has been met with a backlash online, and has seen Stevenson, who is signed with promotional kingpin Bob Arum's company Top Rank, been labelled a "coward" and a "scumbag" from outraged fans, professionals and some journalists.
Checkout Homeboy in the Black-Vest, crosses the screen & stands dumbfounded on left, he's holding Shakur's crew purchased goods! A Pro Boxers Fists are his tools of trade so lets see if Bob Arum can pull a Rabbit outta his Arse for this one. https://t.co/CUrOQXoIL7

— Vas Blackwood (@VasBlackwood) April 4, 2019
Not a good look for Shakur Stevenson. Surveillance footage showed him clocking what appeared to be a woman on the back of the head as well.That's classless.

— Ryan O'Hara (@OHaraSports) April 4, 2019
Even that girl you hit on that video?

— JEEM (@jeem918) April 4, 2019
Both of the men fled the scene before police arrived but were later arrested for battery at their hotel. Paramedics treated the injured man and a woman for cuts and bruises at the scene, per a local Florida news outlet.
Stevenson is scheduled to have his next fight - in the ring that is - on the undercard of the Terence Crawford's WBO World Welterweight Title defense versus Amir Khan on April 20, in which he will face former world title challenger Christopher Diaz.
Also on rt.com
'See you in the Octagon': Conor McGregor offers truce, confirms end of short-lived retirement
You can share this story on social media: