Shamed! Brazen Bayern fan tries to snatch Kimmich jersey from youngster (VIDEO)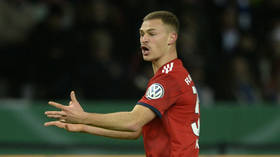 A Bayern Munich fan was shamed into handing back a shirt to a young fan after he snatched the jersey thrown into the crowd by Joshua Kimmich at the club's Bundesliga match at the weekend.
The footage, shown in the tweet below, shows Bayern defender Kimmich approach the fans after his team's 3-1 home win over Schalke 04.
Spotting a young fan at the front of the stand who had brought a 'Joshua Kimmich' banner to the game, the 24-year-old took off his jersey and threw it into the stand to give the youngster a memento he would remember forever.
Random dude taking a shirt meant for a kid and then stopped by others. The guy was ready to snatch it and then acts like he didn't know.Glad to see Kimmich hang back to make sure the kid got the shirt. You can see the top of his head below. pic.twitter.com/j59ZjZZUcC

— Divit (@_Leomarvel_) February 11, 2019
But an adult fan standing in the row behind was also calling for the shirt and leant over and gleefully snatched away the jersey.
Thankfully, the fans in the same area of the stand united to let the selfish supporter know that the jersey was not intended for him.
READ MORE: Man City apologize for 'trolling' Chelsea by playing Madness anthem after 6-0 hammering
And after the fan made eye contact with Kimmich, who had stayed in front of the stand to make sure his shirt made it to the youngster, the fan sheepishly handed the jersey to the delighted young fan.
The youngster was delighted, while the adult fan returned to his seat to smile off the whole incident.
You can share this story on social media: