UFC 234: Israel Adesanya defeats Anderson Silva in Melbourne (RECAP)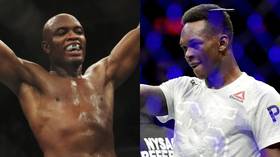 The UFC middleweight title fight between Robert Whittaker and Kelvin Gastelum may have been called off, but Israel Adesanya and Anderson Silva produced an entertaining bout as a replacement. Check out our live event recap.
10 February 2019

05:15 GMT

ADESANYA WINS IT

The judges all scored the fight for the young gun, with scores of 30-27, 29-28, 30-27 in favor of the Nigerian-born Kiwi star.

The two fighters showed huge respect for each other after the fight, and Adesanya told the Melbourne crowd that facing the Brazilian was like playing basketball against Michael Jordan.

As for Silva, he fancies one more fight in his home town of Curitiba, Brazil.

Coincidentally, that's exactly where the UFC will go on May 11 for UFC 237...

05:13 GMT

THEY GO THE DISTANCE

After a thrilling final round that saw both men produce some spectacular striking skills, the fight goes all the way to the judges' scorecards.

Adesanya appeared to have the upper hand through most of that final round, and that should be enough to secure him the win.

We had him winning all three rounds, but it's possible some may have given that super-close second round to Silva.

The judges' scores are up next...

05:06 GMT

SILVA'S STILL GOT IT!

The Brazilian legend needed a better round in the second frame, and he produced it as he put the pressure on Adesanya in Round 2.

Adesanya might just have shaded it on the strike count, but that was a much tougher match to score.

Theoretically, this fight could be level heading into the third and final round.

05:00 GMT

GREAT FIRST ROUND!

Adesanya dominated most of the opening round, dictating the pace and landing strikes on Silva.

But the Brazilian showed some skills of his own as the round wore on, and by the end of the round the crowd were absolutely loving it as both men were showcasing their spectacular striking skills.

Adesanya is ahead on the cards, but Silva is definitely in this fight.

04:45 GMT

HERE WE GO!

It's time for the new main event of the evening.

Of course, it was supposed to feature Robert Whittaker defending his UFC middleweight title against Kelvin Gastelum, but after Whittaker's health scare earlier today, that fight is off.

Instead, the originally-scheduled co-main event is now our headliner, and as substitute fights go, this one is a cracker.

Former UFC middleweight world champion and one of the greatest fighters to ever grace the octagon, Anderson 'The Spider' Silva is back to make one final run at world championship gold, and he's set to face undefeated kickboxing phenom Israel Adesanya with the prize of a title shot up for grabs for the winner.

04:36 GMT

PURE DOMINANCE BY VANNATA

After seeing two of his last three fights go to a draw, Lando Vannata was in no mood to let tonight's fight go to the judges.

The American totally dominated Brazilian debutant Marcos Mariano, both on the feed and on the ground before eventually submitting his opponent with five seconds remaining in the opening round.

After his win, Vannata respectfully asked for a fight with fellow lightweight veteran Jim Miller later this summer.

That would be an excellent matchup.

04:22 GMT

IT'S CO-MAIN EVENT TIME...

The lightweight contest between 'Groovy' Lando Vannata and Marcos Mariano has been bumped up the card to fill the co-main slot.

Vannata always brings an exciting fighting style to the octagon, while Brazilian debutant Mariano arrives with each of his last three wins coming inside the opening round.

It's not the level of fight we were hoping for at the sharp end of the card, but it might just be one of the most exciting clashes of the night.

04:17 GMT

SIMON STARS IN BANTAMWEIGHT CLASH

American Ricky Simon put on a superb performance to defeat Brazilian veteran Rani Yahya by unanimous decision after a high-octane display over all three rounds of an exciting bantamweight bout.

Simon dropped Yahya twice and kept the Brazilian jiu-jitsu ace at bay to secure a landslide verdict on the scorecards, polling scores of 30-27, 30-27, 30-25 from the three octagonside judges.

03:34 GMT

DE LA ROSA DOMINATES

Women's flyweight contender Montana De La Rosa continued her successful run since her time on The Ultimate Fighter with a second-round armbar submission victory over Australia's Nadia Kassem in their main card bout.

De La Rosa's win gave her the 10th win of her MMA career, and her eighth victory by way of submission.

She likes the armbar, too. Tonight's win was the fifth win using that technique, and the third armbar finish in her last four fights.

03:22 GMT

HUGE WIN FOR JIMMY CRUTE

Rising Australian light-heavyweight star Jimmy Crute kicks off the main card of UFC 234 with a huge victory, as he finishes the always-durable Sam Alvey via first-round TKO.

Crute dropped Alvey with a huge right hand and then walked off, assuming the fight was over.

However, it wasn't, and the Aussie had to get back to work and shrug off a takedown from the wobbly-legged American before finishing him with ground strikes.

The usually happy-go-lucky Alvey was livid at the stoppage by referee Marc Goddard, but after being badly rocked and cracked with a succession of ground strikes, the American didn't do enough in the official's eyes to get out of trouble and the fight was waved off.

Take nothing away from Crute, however. He fully deserved his win and will move on to bigger and better things. He's a very exciting prospect and could become something of a star in the UFC's light-heavyweight division in the years to come.