Super Bowl LIII: New England Patriots defeat Los Angeles Rams in showpiece finale (RECAP)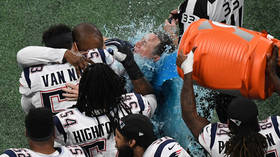 Recap RT Sport's live updates as the New England Patriots edged a tight, tense Super Bowl LIII over the Los Angeles Rams in Atlanta, Georgia.
04 February 2019

03:53 GMT

THANKS FOR FOLLOWING THE ACTION WITH US

It wasn't a classic Super Bowl, but it did prove to be an historic one, as the Patriots, Bill Belichick and Tom Brady made it Super Bowl title number six.

Sean McVay and the Rams will bounce back, we're sure. But they'll face stiff opposition from a fired-up New Orleans Saints team who felt they were robbed of a place in tonight's showpiece finale.

And in the AFC, the Kansas City Chiefs, led by the league's new MVP Patrick Mahomes, will be a major threat to the Patriots' dominance.

But this season belongs to the New England Patriots, who will celebrate long into the night.

And you can bet "Gronk" will be leading the way...

03:44 GMT

WINNING COMBINATION

Patriots quarterback Tom Brady and MVP wide receiver Julian Edelman shared an emotional moment after securing the victory in Atlanta.

03:41 GMT

EDELMAN EARNS MVP

Julian Edelman was named the game's Most Valuable Player after an excellent performance at wide receiver that saw him claim 10 catches for 141 yards.

It wasn't a big offensive Super Bowl, but Edelman's contribution was crucial, and he deserved his MVP award.

03:39 GMT

GRONK CELEBRATES

Patriots tight end Rob Gronkowski was buzzing after the game, as he channelled his inner Ric Flair in his social media celebration.

03:09 GMT

SIX OF THE BEST

Tom Brady was called the GOAT long before today's game, but if there were any doubts, his sixth Super Bowl victory - an NFL record - has surely banished them.

03:04 GMT

IT'S ALL OVER!

The Rams drove through the middle of the Patriots defense to set up a field-goal attempt for Greg Zuerlein.

The Rams' hope was that their kicker could nail another long-range effort, then successfully convert an onside kick to set up one final Hail Mary pass to the end zone. But it wasn't to be.

Zuerlein's field goal attempt flew wide left and the Patriots ran out the clock to secure the Super Bowl victory.

The final score was Patriots 13-3, and Tom Brady collects yet another Super Bowl ring. Amazing stuff by the Patriots.

It wasn't a classic. In fact it was a pretty poor game. But the record books will show that the New England Patriots are, once again, Super Bowl Champions.

02:59 GMT

GOSTKOWSKI SURELY SEALS IT!

The Patriots drove into Rams territory, got to 4th and inches, then called on the boot of Stephen Gostkowski, who fired home the field goal from 41 yards.

The Patriots lead by 10 points with just over a minute to play.

It's Patriots 13-3 Rams and, barring the most incredible Super Bowl comeback ever, this game is over.

02:53 GMT

WE'RE AT THE TWO-MINUTE WARNING

The Patriots are in charge with two minutes to go.

They lead 10-3, they have the ball at 3rd and 1, and if they get a first down, the game will be as good as over.

If the Rams can get a stop, they might just have a chance to get back into the game, but their chances are looking pretty thin right now.

Someone from their tiring defense needs to come up with a huge play right now to give Los Angeles in with a fighting chance.

02:41 GMT

DISASTER FOR GOFF!

Jared Goff hit his stride and was marching the Rams down the field in fine style before disaster struck.

First, a beautifully-weighted throw to Brandin Cooks in the endzone is broken up with a touchdown seemingly there for the taking.

Then, in the very next play, he tries the same throw again and is picked off by Stephon Gilmore, who was involved in stopping the touchdown in the previous play.

The Rams looked excellent in that drive, but Goff pushed his luck just a little too far, and he may just have lost the game with that interception.