UFC Fortaleza: Marlon Moraes stuns Raphael Assuncao and calls for bantamweight title shot (RECAP)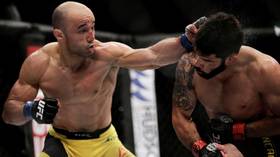 The action came thick and fast in Fortaleza as the UFC returned to Brazil with a card stacked with local heroes, including an all-Brazilian bantamweight battle in the main event. Recap the action here.
03 February 2019

03:31 GMT

THANKS FOR JOINING US!

That brings us to the end of our live updates from UFC Fortaleza on a night where Marlon Moraes lived up to his nickname and produced a "Magic" performance to stake his claim for a shot at UFC bantamweight gold later this year.

Don't forget to check out our MMA coverage on RT Sport throughout the week as we build up to the next big UFC show, UFC 234, as Robert Whittaker puts his UFC middleweight title on the line against Kelvin Gastelum and middleweight striking sensation Israel Adesanya takes on legendary former world champion Anderson Silva.

03:27 GMT

MORAES CALLS HIS SHOT

"I'm the best in the division and you know who I deserve," said Moraes after the fight, making very clear that he wants a shot at TJ Dillashaw's UFC bantamweight title next.

After a performance like that, who can deny him?

03:23 GMT

FIRST-ROUND FINISH!

That was dominant from "Magic" Marlon Moraes.

The former World Series of Fighting champion got his revenge for his split-decision loss to Assuncao on his UFC debut with a decisive first-round finish of the longtime contender in the main event of UFC Fortaleza.

Moraes cracked Assuncao twice with heavy shots, dropping him with the second and following him to the mat in search of a finish.

Moraes advanced to top position, looked to work some ground strikes, then switched for a guillotine choke submission, rolling over to be on top and forcing the tap from the helpless Assuncao, who had no answer for Moraes' high-octane display.

03:12 GMT

MAIN EVENT: ASSUNCAO vs MORAES

It's time for the main event of the evening as Brazilian bantamweight contenders Raphael Assuncao and Marlon Moraes for the second time looking to push themselves to the front of the UFC's bantamweight queue.

Here's UFC heavyweight champion and fight analyst Daniel Cormier with a pre-fight breakdown...

03:06 GMT

ALEX WANTS ALDO

Jose Aldo just told the crowd in Fortaleza he wants to fight on the card the next time the UFC returns to Brazil, and it seems he already has a willing opponent.

Australian featherweight contender Alex Volkanovski produced the best performance of his career to defeat former title challenger Chad Mendes in his last outing, and now the former rugby player has thrown his hat into the ring to face Aldo in Brazil next.

02:58 GMT

ALDO'S STILL GOT IT!

Just a matter of seconds after we typed to say nobody had put their foot to the pedal, Jose Aldo turned on the afterburners, and how.

The two-time former featherweight champion came out and launched a blistering salvo of strikes at Moicano, who simply had no answer.

A left hook to the head and another to the body opened things up, then Aldo went into full-on berserker mode, chasing his man across the octagon, landing power punches all the way.

Eventually, the former champ had Moicano up against the cage, shipping multiple strikes as referee Jerin Valel wisely stepped in to finish it 44 seconds into the second round as Aldo dived into the crowd to celebrate with his delirious fans.

That was phenomenal.

02:56 GMT

IT'S TIGHT AND TENSE...

The first round was a very cagey affair between Aldo and Moicano, with both men seemingly trying to work out the other's timing.

Both men look very sharp, and are trying to draw the other man out with feints. But for now it's still very close and neither man has really put their foot to the pedal so far.

02:37 GMT

IT'S CO-MAIN EVENT TIME!

02:30 GMT

SUBMISSION!

Demian Maia may be 41 years of age, but there's still plenty of life in the old dog yet.

The Brazilian submission magician took Lyman Good to the canvas, took his back and managed to stay there, even when Good returned to his feet.

Then Maia calmly, patiently worked an opening for a rear-naked choke and when he locked it up, Good had no option but to tap out.

It was Good's first-ever stoppage loss and Maia's 13th submission victory of Maia's mixed martial arts career.

It also snapped Maia's three-bout losing streak and put the popular veteran back in the win column as he notched his 20th victory inside the octagon.

02:20 GMT

STYLES CLASH AT WELTERWEIGHT

New York's Lyman Good is a former champion in Bellator, but he's fighting a different level of opposition in the UFC, and he's looking to gatecrash the title picture with victory over one of the most respected veterans of the game.

Demian Maia has shared the octagon with a who's who of the UFC in his career, and the BJJ phenom will look to use his grapping skills to turn back the powerful American and score a crowd-pleasing victory.