'I really don't care': NFL star throws Super Bowl tickets in trashcan, sparks scramble (VIDEO)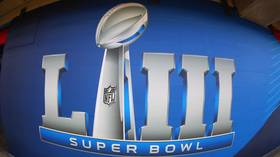 New Orleans wide receiver Michael Thomas showed his apparent disdain for the upcoming Super Bowl by posting a video on Twitter showing two tickets for the championship game being thrown in a trashcan.
READ MORE: Snowstorm threatens to take over Atlanta ahead of Super Bowl
Two tickets priced at $900 each were tossed into the garbage, with Thomas writing: "I don't remember the trash can, and secondly I really don't care," the player captioned the video which was met with mixed reactions on social media.
Thomas' snub of the sporting extravaganza was apparently caused by a refereeing controversy during the NFC Championship Game between the Saints and the Los Angeles Rams on January 20.
No penalty flag was called for pass interference after Saints' Tommylee Lewis was crushed by Rams cornerback Nickell Robey-Coleman with less than 2 minutes left in regulation. The no-call was believed to have a serious impact on the outcome of the game, which the Saints lost 23-26.
Also on rt.com
'Another reason not to watch': NFL fans split over Super Bowl debut for male cheerleaders
Aggrieved Saints fans believe that had the penalty been called, their team could have scored a touchdown or at least killed the clock, making it difficult for the Rams to extend proceedings into overtime.
Thomas' impulsive gesture triggered a wave of amusement on Twitter, with many followers praising him for ticket-throwing act.
Others suggested that the entire city "will be digging through trash" in an attempt to find the discarded tickets.
Some quick-witted users thanked the player for posting the video, pledging to use screenshoted bar codes to get to the stadium.
Others condemned Thomas for his reckless actions, insisting that he could have found a better use of the two tickets of a combined price of $ 1800.
Thomas could have received the tickets from NFL officials, as in addition to the two teams competing in the Super Bowl and the team which hosts the event, the league distributes a small amount of tickets to the other 29 teams which failed to reach the season-ending event.
The game will be played at Mercedes-Benz Stadium in Atlanta on Sunday.
You can share this story on social media: