UFC 232: Jon Jones beats Alex Gustafsson to win light-heavyweight title in LA (AS IT HAPPENED)
RT Sport was live as Jon 'Bones' Jones and Alexander Gustafsson fought for the vacant UFC light-heavyweight title at UFC 232.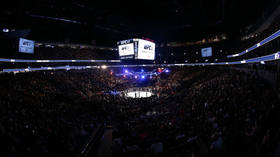 30 December 2018

06:52 GMT

And we'll leave the final word on this live blog to returning UFC light-heavyweight champion Jon 'Bones' Jones, whose challenge to old rival Daniel Cormier already has fans and media salivating at the possibility of a third meeting between the pair.

It's the hottest rivalry in mixed martial arts and it looks like it's not quite over yet.

06:44 GMT

Perhaps the biggest win of the night belonged to Amanda Nunes.

The Brazilian UFC women's bantamweight champion was a significant underdog heading into her featherweight title challenge against all-conquering champion Cris Cyborg.

But a crazy 51-second firefight ended in spectacular fashion as Nunes knocked out Cyborg with a huge right hand to become the first simultaneous two-division female champion in UFC history.

For a fighter who has not always received the plaudits her performances have deserved, the crowd reaction during her ecstatic post-fight interview must have been music to her ears.

06:30 GMT

Tonight was a big night for another Australian as Alexander Volkanovski claimed a career-defining stoppage victory over former title challenger Chad Mendes in the opening bout of the main card.

Volkanovski asked for the Mendes fight after his previous victory, and he proved his worth as a top contender in the UFC's featherweight division with a brilliant display after a back-and-forth war.

And he reflected on his success when chatting backstage after the fight.

06:20 GMT

Australian featherweight contender Megan Anderson got the win she wanted against Cat Zingano, but it didn't quite happen in the way she would have chosen pre-fight.

Here's her considered backstage take on how things played out in her bout over Zingano.

06:17 GMT

Let's look back at some post-fight reaction from a few of the notable bouts this evening.

Firstly, have a listen to the super-classy backstage interview from middleweight Uriah Hall, who was well and truly dominated by debuting Bevon Lewis before he found the newcomer's chin with a perfectly-placed right hand that earned him a stunning one-punch knockout victory.

05:57 GMT

NEW CHAMPS CEMENT THEIR LEGACIES

It was a huge night for both Jon Jones and Amanda Nunes, who captured world titles in the main and co-main events respectively.

Both can legitimately lay claim to being the greatest male and female mixed martial artists in history.

For some, Jones' checkered past will forever hang over his career, and the strange nature of the build-up to this weekend's fight will leave an element of doubt in the minds of those who reject the claims of USADA and the California State Athletic Commission.

But irrespective of the circumstances surrounding Jones over the past week, Nunes' performance arguably eclipsed his display tonight.

Her finish of Cris Cyborg will surely go down as one of the great highlight-reel moments in women's UFC history, sitting alongside Holly Holm's spectacular head-kick knockout of Ronda Rousey back at UFC 193.

05:51 GMT

CORMIER LEAVES THE DOOR OPEN FOR LIGHT-HEAVYWEIGHT RETURN

The consensus view heading into the weekend was that Daniel Cormier would be best off staying at heavyweight and facing Jones for the UFC heavyweight title.

But despite Jones seemingly ruling out a move up to heavyweight to face Cormier for a second world title, 'DC' left the door open for a possible return to light-heavyweight.

Responding to former UFC bantamweight champion and UFC 232 co-commentator Dominick Cruz, Cormier tweeted, referring to the drug testing situation, hinting that if they did sufficient testing and Jones passed with flying colors, he'd be open to a third fight at 205lbs.

"You just said outside of all the testing stuff. Is there really stuff outside of the testing?" he asked Cruz.

"Or we just do more testing and neither of us fail. That would be best case! We do that I'll be back at 205!!!!!"

@DominickCruz you just said outside of all the testing stuff. Is there really stuff outside of the testing? Or we just do more testing and neither of us fail. That would be best case! We do that I'll be back at 205!!!!!

— Daniel Cormier (@dc_mma) December 30, 2018

05:40 GMT

After the fight, Jones challenged old adversary Daniel Cormier to "come get your belt back" as he hinted at a potential trilogy fight with his longtime rival and current UFC heavyweight champion.

"I know there's a guy who's been calling himself 'champ champ'," he said.

"I mean, what guy just gives up his belt because somebody else made it home? Daddy's home, DC.

"Prove to the fans you're a 'champ champ'. Come get a taste, I'm here. Get your belt back. I'll be waiting right here."

Cormier held the light-heavyweight belt at the start of the week, but opted to vacate it rather than be stripped of the title on fight night.

And now Jones has the title around his waist once again, talk of a third fight between the pair will dominate the headlines in the days and weeks to come.

The two big questions are clear. Will Cormier accept a third fight with his nemesis? And if he does, in which weight class will the fight take place?

Based on his post-fight tweet, Cormier is not impressed with the circumstances surrounding Jones' victory, tweeting his displeasure with the hashtag #usadafake.

05:38 GMT

GROUND AND POUND

Here's how Jones finished Gustafsson to reclaim the UFC light-heavyweight title at UFC 232.

05:32 GMT

JONES STOPS GUSTAFSSON IN THREE

We said Gustafsson needed to up his intensity in the third round, but it was Jones who turned things up to dominate the Swede and finish him clinically with some vicious ground strikes after taking him to the mat and transitioning to his back.

At least one of the ground strikes looked to be to the back of Gustafsson's head, but the rest were as clean as can be and, with the Swede trapped face-down on the mat, referee Mike Beltran saw there was no escape and moved in to stop the contest.

Jones is back on top, reunited with the UFC light-heavyweight championship belt he never lost inside the octagon, thanks to a third-round KO victory.