'It's a bold move by Sascha': Roger Federer opens up on Zverev ATP controversy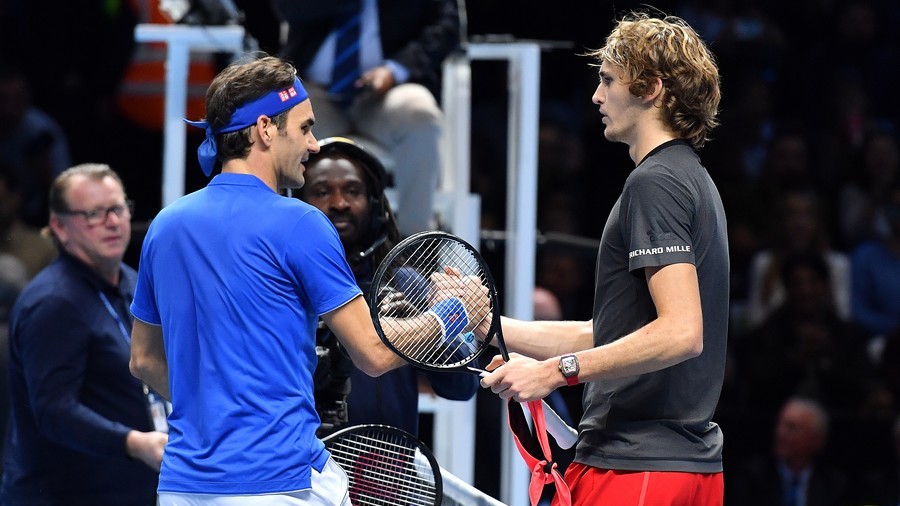 Tennis great Federer says he is "not questioning Alexander Zverev's sportsmanship in any way" despite his booking his place in Sunday's ATP Final in controversial fashion, stopping a rally to claim he was distracted by a ball boy.
Eyebrows were raised when the 21-year-old German, who is also known as 'Sascha', stopped playing in the middle of a point against Swiss 20-time Grand Slam winner Federer, apparently distracted by one of the ball boys dropping a ball during the second set tie breaker.
The umpire ordered the point to be replayed and from the following serve Zverev pinged an ace past his opponent to take the point.
The moment caused a stir in London's O2 Arena but Federer holds no hard feelings towards his opponent, who has booked his place in the final against Serbian Novak Djokovic.
"I'm not questioning Sascha's sportsmanship in any way," Federer said after the match. "I think, like I said before, it's a bold move by Sascha to stop the rally because the umpire can just say, sorry, buddy, you're in the rally.
READ MORE: 'No need to apologize' - Federer defends Zverev after controversial incident in ATP Finals defeat
"I don't care. You lost the point. I didn't see it. That's where I just wanted to double-check with the umpire, what is the situation.
"But not for a second there was a sportsmanship situation there. It was just totally an umpire's decision with the ball kid and the lines person, as well, just making sure they got the facts right. I don't know what the rule says."
Zverev: 'I was really upset afterwards in the locker room, I'm not going to lie. Hopefully people realise I've not done anything wrong.'

— George Bellshaw (@BellshawGeorge) November 17, 2018
It's a shame that incident with the crowd will taint what should be remembered as a brilliant win for Zverev. Totally undeserved.

— George Bellshaw (@BellshawGeorge) November 17, 2018
Following the match, Zverev was loudly booed on the court by fans. For his part, the youngster said to the media in the aftermath that he didn't intend to cause an issue and he apologized to the fans in attendance, even if his comments contradict those of Federer somewhat.
"I apologized to Roger at the net, he told me 'it's okay, it's in the rules'," he said. "I want to apologize to the crowd, Roger has a lot of fans here and for what he's achieved he should have. I'm very sorry that this happened I didn't mean to upset anybody - that's all I can say, sorry."