Shocking new 360-degree footage shows moment F1 driver Leclerc 'saved' by halo system (VIDEO)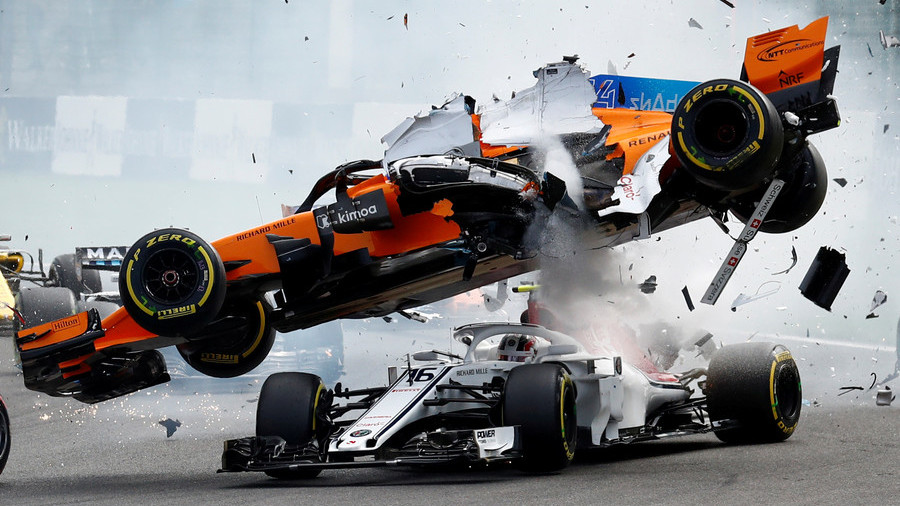 New 360-degree footage has shown just how lucky F1 driver Charles Leclerc was to emerge unscathed from a horror crash at the Belgian Grand Prix, showing the moment the new 'halo' head protection system helped save the driver.
Leclerc was involved in a stunning three-way crash on the first corner at the Spa racetrack on Sunday, when Fernando Alonso's McLaren flew over the top of Leclerc's Sauber after being shunted into by Nico Hulkenberg.
The Monaco driver was lucky to avoid serious injury after Alonso's car was deflected over his head by the new halo head protection system which has been fitted to all cars this year.
READ MORE: High-speed hydroplane boat flips 360 degrees in spectacular crash (VIDEO)
New 360-degree footage of the incident shows just how close 20-year-old Leclerc came to being hit by the McLaren as it flew inches from his head.
While many drivers and fans were against the introduction of the halo system this season – with some seeing it as unsightly and a hindrance – many have praised it for appearing to save Leclerc from serious injury on Sunday.
The driver himself tweeted an image of the crash, with the caption: "Never been a fan of the halo but I have to say that I was very happy to have it over my head today!"
Spanish driver Alonso also credited the system with saving the Sauber driver, saying: "I saw the replay and how good was the proof for the halo. We didn't need any proof but it is a good thing."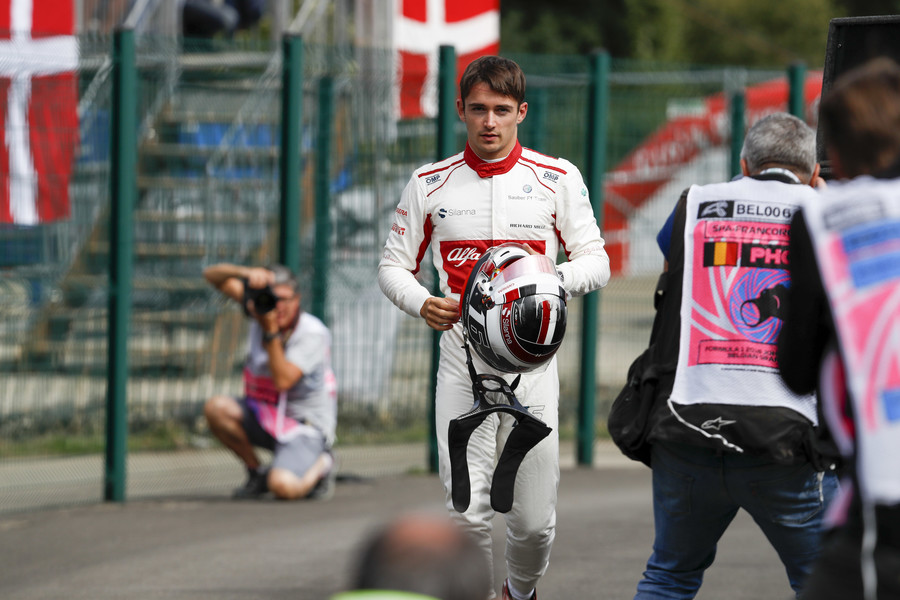 The halo was introduced in a bid to protect drivers' heads from flying debris, and appears to have done its job on Sunday.
After the crash it bore the marks made by Alonso's car as testament to the role it played in bearing the brunt of the impact as the McLaren flew over Leclerc's head.
German driver Hulkenberg was handed a 10-place grid penalty at the next race over his role in the crash, after failing to brake sufficiently at the first corner. The Renault driver has also been given as three license penalty points.
All three drivers involved in the crash failed to finish the race, which was won by Ferrari's Sebastian Vettel, who cut the gap at the top of the drivers' standings to 17 points behind Mercedes' Lewis Hamilton.
You can share this story on social media: