4 hospitalized as women's football match descends into chaotic brawl in Argentina (VIDEO)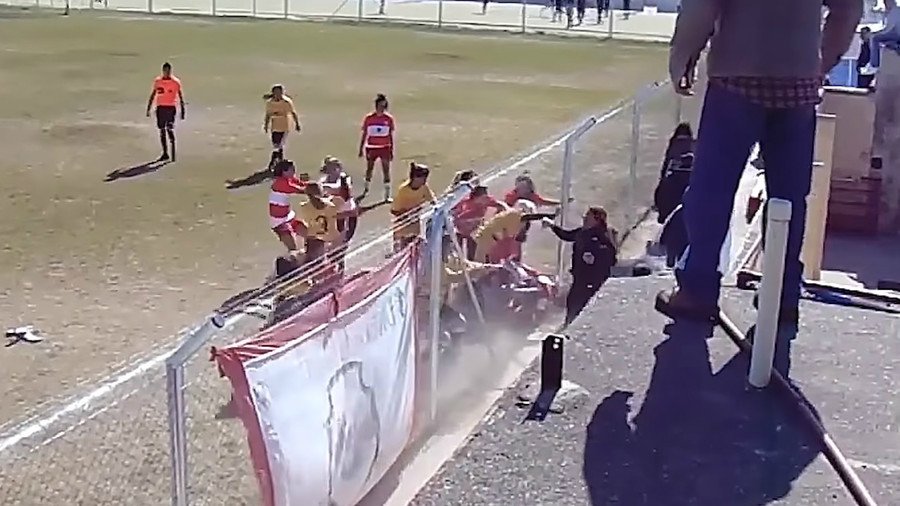 The football match between Argentina's Universitario and Libertad turned ugly as several players required medical attention after a brawl erupted following the sending off of a coach who protested a referee's decision.
Emeteiro Farias, president of the league in which the two teams compete, has promised "very harsh" sanctions for the players involved in the mass brawl.
READ MORE: 'It looked awful, but what could I do?'– Belarusian runner won marathon despite excessive nosebleed
The incident began after the referee awarded Universitario a penalty, after which a Libertad coach was sent off for arguing the decision.
The situation became heated when a Universitario player began shouting at one of the opposing coaches on the sideline, prompting a Libertad player to push her.
Moments later, players from both teams were involved in a brawl, which left several players injured on the ground.
"Five of them threw me to the ground," Celeste Racca, who was hospitalized, told La Nacion.
"I told my friend 'make yourself small because they are trying to kill us.'
"It's shameful, the support was nowhere to be seen. So much work is done for women's football and then these events happen, it's very painful."
You can share this story on social media: