Russian 14yo figure skater includes men's elements in routine (VIDEO)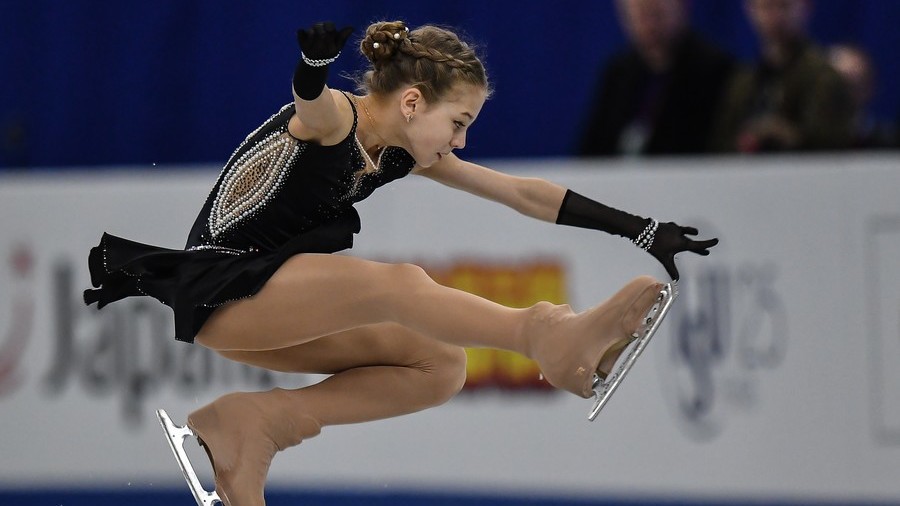 Russian junior figure skater Alexandra Trusova has impressed with her free program at a test training event, successfully landing three quads in her routine including a quad Lutz usually performed by men.
The 2018 world junior champion Trusova flawlessly nailed a quadruple Lutz becoming the first female skater to perform this extremely difficult jumping element. The 14-year-old talent also coped with two toe loops in her free program with the first one being done in combination with a triple loop.
READ MORE: Figure skating: The teen female stars who lit up the Olympics
"I want to do something that has never been done before. That's why I'm learning jump quads and I really like it. I don't feel any fear, because if you are afraid of doing something you can never succeed," Trusova said after her successful test training in Novogorsk, in the Moscow region.
The young skater has been training under the watchful eyes of the prominent Russian coach Eteri Tutberidze who guided Alina Zagitova to Olympic glory earlier this year.
READ MORE: Russian 13yo skater outscores Zagitova with 'unofficial world record' in junior world champs win
Trusova who is not yet age-eligible to compete in senior events made a splash at this year's junior world championships immaculately landing two quads in her free program and posting an unofficial technical score world record which was 11 points higher than Zagitova's gold medal-winning result at the 2018 PyeongChang games.