'I thought if I closed my eyes, I would never open them' – Russian Olympic skater on horror injury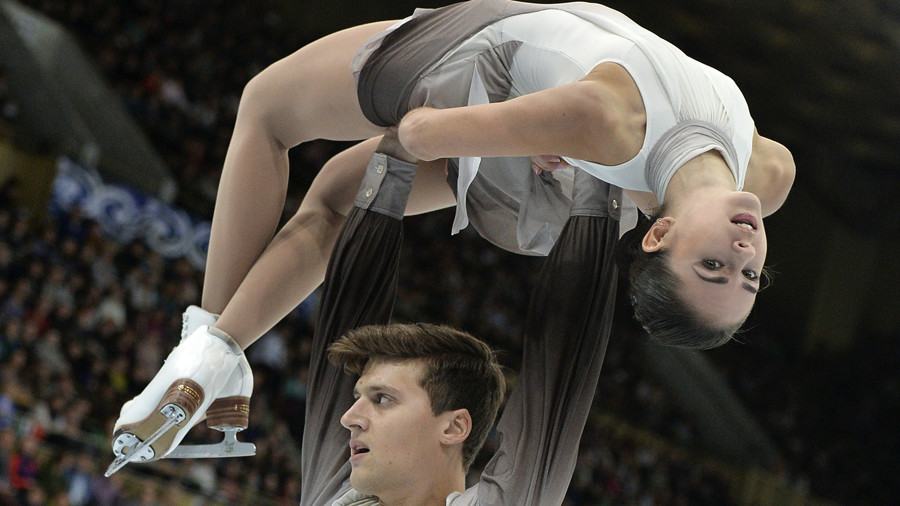 Russian figure skater Natalja Zabijako has explained how she battled to win Olympic silver at PyeongChang 2018 despite a horrific head injury sustained two years before the event.
Born in Tallinn, Estonia, Zabijako won silver in the team event in South Korea with partner Alexander Enbert, with whom she teamed up in 2014. But her road to glory wasn't a smooth one.
Zabijako entered the skating rink at the age of four. Unable to find a skating partner in Estonia, Zabijako decided to go to the US at just 14 with the help of a loan from her father, despite not being able to speak English.
She lived with an American guest family with two other Russian exchange girls, sleeping on a "small sofa in the kitchen," she explained in an interview with Sport24.
"In winter, they started training one more Russian skater. I got acquainted with her parents, who invited me to live together with them for free. I lived in their house for four years, I really treat them as my second family," Zabijako said.
After a string of misfortunes – including a back injury which forced her to stay out of practice for several months, and her partner deciding to go back to Ukraine – Zabijako was invited by famous Russian figure-skating specialist Nina Mozer to train under her guidance.
She paired up with Ebert in 2014, but tragedy struck when the two were preparing to take part in international figure-skating tournaments, and the skater fell during a sequence.
"It was the most terrifying injury in my career, which resulted in brain bleeding, a crack in the head and left-eardrum rupture. It happened during our evening training session," she said. "We attempted to make a triple throw, during which I fell, hitting my head. I stayed conscious, but could realize what was going on.
"The coaches brought me to the medical room. My eyes went out of focus, I just saw a black spot right in front of me. I was afraid of closing my eyes, I thought if I close them I wouldn't be able to open them again.
"Then I was brought to hospital, where I spent one week in the emergency room. I slept almost all the time, waking up for just for 30 minutes a day."
Zabijako was later told by doctors that she had a blood clot, and that if it did not dissolve, they would have to perform a craniotomy. Fortunately, the talented skater managed not only to fully recover from the injury, but also make the Russian Olympic squad.
At the pre-Olympic European Championship in Moscow, Enbert and Zabijako claimed their maiden continental medal, finishing third in pairs behind their teammates Evgenia Tarasova and Vladimir Morozov, and Ksenia Stolbova and Fedor Klimov.
Competing at their first Olympics in PyeongChang, Zabijako and Enbert delivered a solid performance, helping their national squad to win silver in the team event, providing a silver lining to Zabijako's story.
You can share this story on social media: