Aussie Rules player handed 8-game ban for sickening punch that broke teen star's jaw (VIDEO)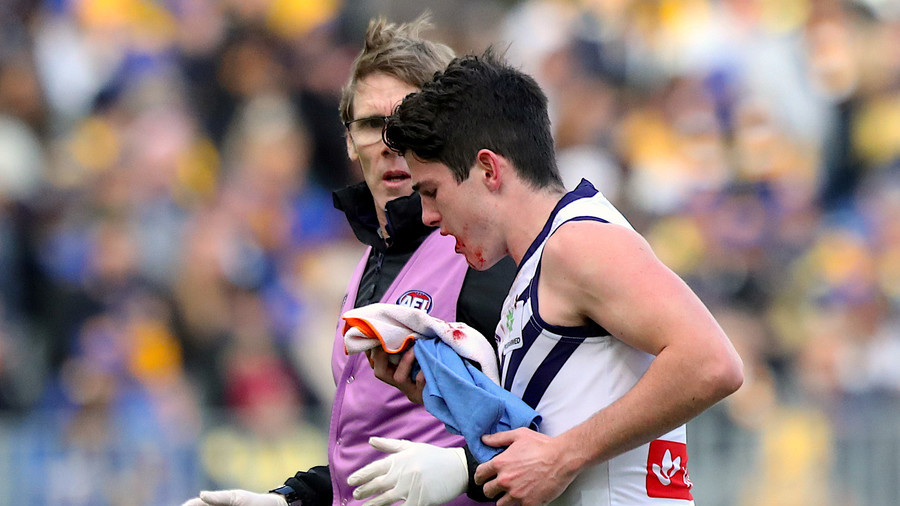 Aussie Rules footballer Andrew Gaff has been slapped with an eight-game ban for a brutal off-the-ball punch which left a teenage opponent with a shattered jaw in an incident that some said warranted criminal charges.
Gaff, of the West Coast Eagles, lashed out at Fremantle Dockers player Andrew Brayshaw in the teams' game on Sunday, breaking the 18-year-old's jaw and leaving him unable to eat solid food for four weeks.
An Australian Football League (AFL) tribunal handed Gaff, 26, an eight-game ban on Tuesday, meaning he will miss the remainder of this season and the start of next.
There are calls for Brownlow Medal hopeful Andrew Gaff to face criminal charges, for a brutal one punch attack against Dockers young gun Andrew Brayshaw. #7Newspic.twitter.com/5ULscERRAf

— 7 News Melbourne (@7NewsMelbourne) August 6, 2018
After the game Gaff had said the incident had left him feeling "sick," and following the hearing he again apologized to Brayshaw, whose brother Hamish also plays at West Coast.
"First of all I just want to say that I'm so, so sorry to Andrew and the Brayshaw family for the pain that I've caused them over the past 48 hours," Gaff said.
"I respect the Brayshaw boys so much and the way they go about it. I'm really disappointed. I own my actions, and it really hurts a lot.
"The last 48 hours have probably been the toughest couple of days of my life... the people that I've spoken to and who have seen me in that time know the world of pain I'm in and how much I'm suffering," he added.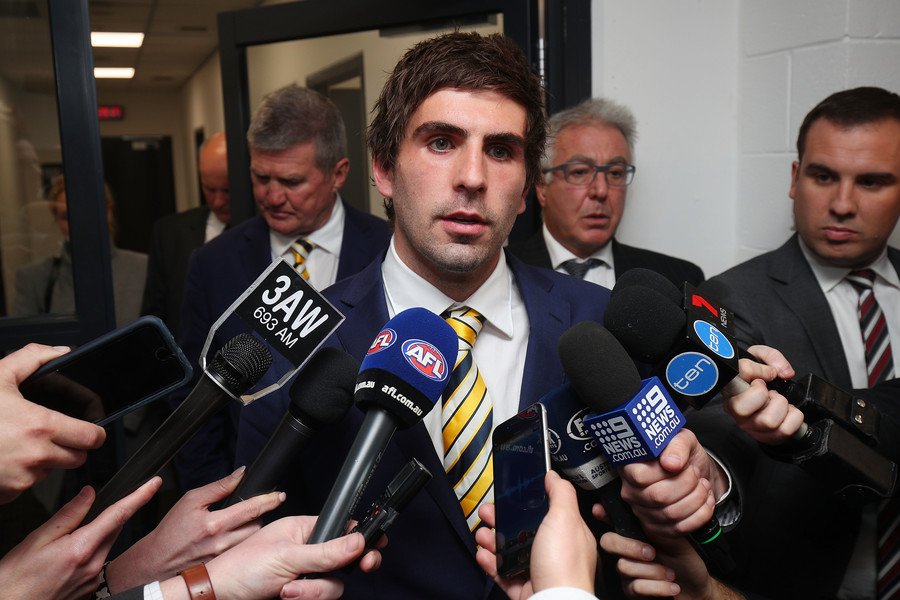 "I see myself as a caring, gentle and measured person and that's why it's disappointing so much more. I'm disappointed for Andrew, I'm disappointed in myself, I'm disappointed I let my teammates down at an important time of the year and I'm disappointed I've let the supporters down as well."
Gaff had faced calls for criminal prosecution over the incident, which some branded the most sickening ever seen in Aussie Rules football.
Not everyone will agree, so save the abuse. But you can't punch someone and break their jaw and escape police scrutiny just because you're wearing a footy jumper.  Will be surprised if charges aren't considered #gaff

— Mark Robinson (@Robbo_heraldsun) August 5, 2018
Western Australia state police commissioner Chris Dawson had said earlier in the week that the force would assess the incident.
"We will make an assessment on this incident as we would with other matters of public interest, and we would encourage any parties directly connected and concerned with this matter to contact WA Police Force," he said.
"No one likes to see hits like that in competitive sport," he added, saying: "It is rare for police to lay criminal charges as a result of an incident in a professional competitive sporting event.
"Physical contact on the footy field is expected. The central issue here is what should be governed by the sporting code and what falls within the criminal realm."
READ MORE: Sprint legend Usain Bolt to join Australian club for latest football trial
Others, however, had said that the league's disciplinary procedures should be sufficient to handle the case.
"Some of those inflammatory comments by some people just are unwarranted, because everyone knows we've got a process in the AFL and the club will take the process to the tribunal," West Coast Eagles CEO Trevor Nisbett said.
"The AFL will deal with it. The player will get the penalty that the AFL tribunal deems as deserved in this case."
"We have checked in with Andrew Brayshaw, we spoke to Mark. Fortunately he is in a reasonable position considering what happened. We take full responsibility for the incident, as does Gaffy. We are very apologetic to the Brayshaw family and to the club." CEO Trevor Nisbett pic.twitter.com/b74C8lURo4

— West Coast Eagles (@WestCoastEagles) August 6, 2018
Gaff had a spotless disciplinary record before Sunday's incident, but will now miss his team's three remaining regular season games and, depending on how far the team progresses in the finals, a number of games at the start of the 2019 season.