Baseball fan makes stunning one-handed catch while holding baby in other arm (VIDEO)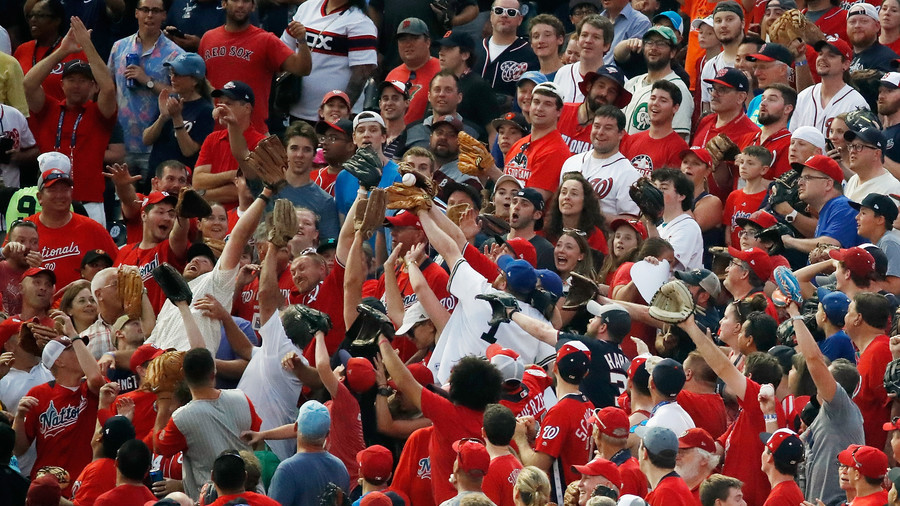 A Philadelphia Phillies fan provided entertainment every bit as good as that on the ball park when he made a stunning one-handed catch from a home run while holding a baby in his other hand.
The fan made the incredible take from a Maikel Franco homer which cut the Dodgers' lead to 7-6 at Citizens Bank Park earlier this week.
The ball was blasted high towards the left of the field and a group of fans jostled to attempt to make the catch.
Amazingly, the one to emerge with the ball was a dad in a red Roy Halladay Phillies shirt, who reached over with his right hand to grab the ball while ensuring his baby remained safely ensconced in his left arm.
The fan was seen triumphantly raising the ball in his right arm as fellow spectators looked on in disbelief before applauding his efforts.
Twitter user Lita Schmitt said she had been sitting behind the man when he made the catch, praising his actions in making the take while protecting the baby and his female companion.
We were sitting right behind him. The baby's mother/his girlfriend was sitting to his left w the ball going directly at her. It was a great reaction from him to catch the ball so it didn't hit her, while also shielding the baby...to those who comment on him putting baby in danger

— Lita Schmitt (@LitaWords) July 24, 2018
Others expressed their amazement, with one fan writing: "So much respect for this.... I don't think enough people understand how hard it is to catch a baseball hit that far without a glove...let alone one handed over 2 people with a baby in hand...get my guy season tickets."
The Phillies reversed Monday's defeat by beating the Dodgers 7-4 on Tuesday.