Mix of sympathy & scorn for Vettel after German crashes out of home grand prix to hand Hamilton win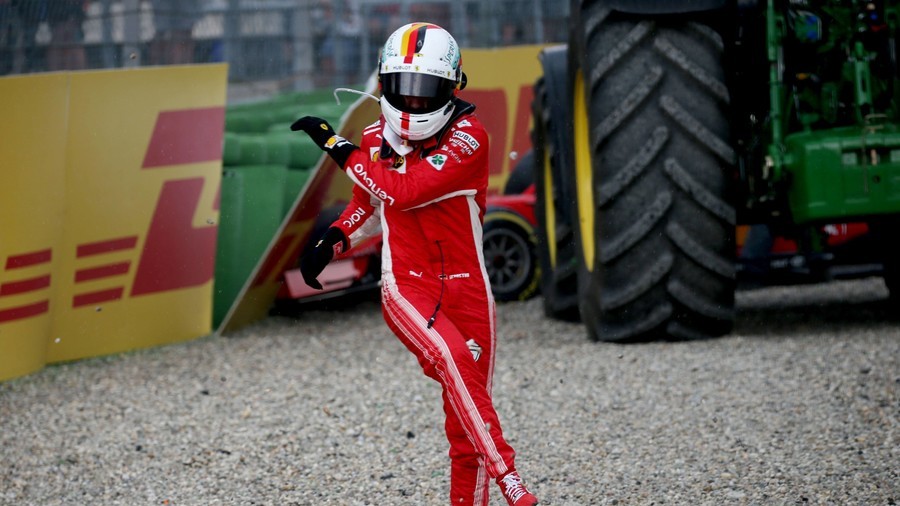 Ferrari driver Sebastian Vettel crashed out of his home German Formula 1 Grand Prix while leading the race on Sunday, eliciting a mixture of sympathy and scorn online as British driver Lewis Hamilton claimed victory.
Vettel was looking good to extend his lead at the top of the drivers' championship when he was running first at the German Grand Prix on lap 54 out of 67 before crashing out as the rain began to fall.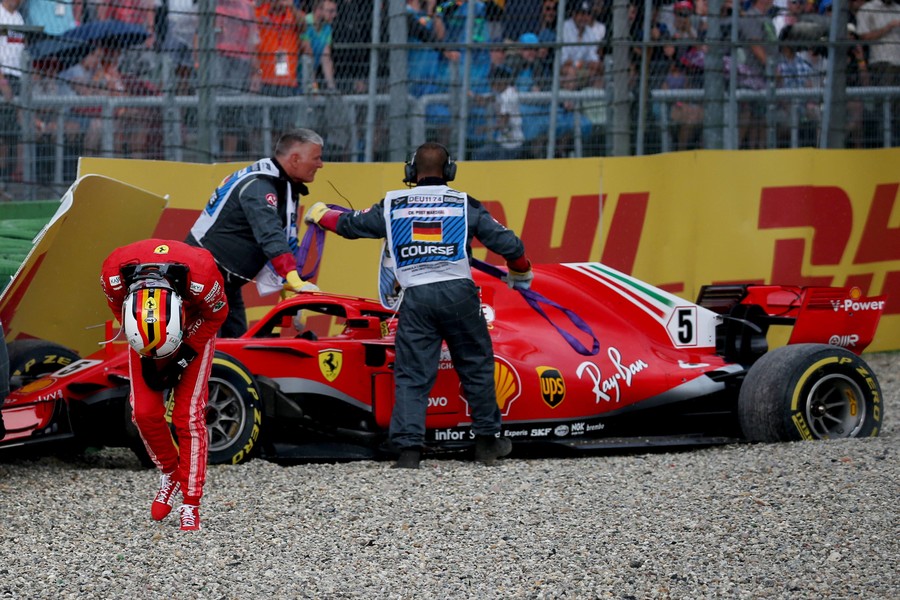 That handed Mercedes driver Hamilton – who was starting from 14th on the grid after mechanical problems in qualifying – a run at the lead, which he duly took after passing teammate Valtteri Bottas after the Finn was told to hold back by Mercedes.
The win – which reversed Vettel's win over Hamilton at his home British Grand Prix at Silverstone two weeks ago – means that the Brit has opened up a 17-point lead at the top of the drivers' standings.
On crashing out, an emotional Vettel was heard swearing on the team radio, although the four-time world champion told Sky Sports after the race that it "wasn't a huge mistake."
"It's not like I will have huge difficulties sleeping tonight because I made a big mistake. We didn't need the rain," the German added.
"We have a strong car, so we can be as confident, more confident, than anybody else. It was one of those moments. My mistake. Apologies to the team. Small mistake, big disappointment. The tyres weren't fresh, but it was slippery for everyone."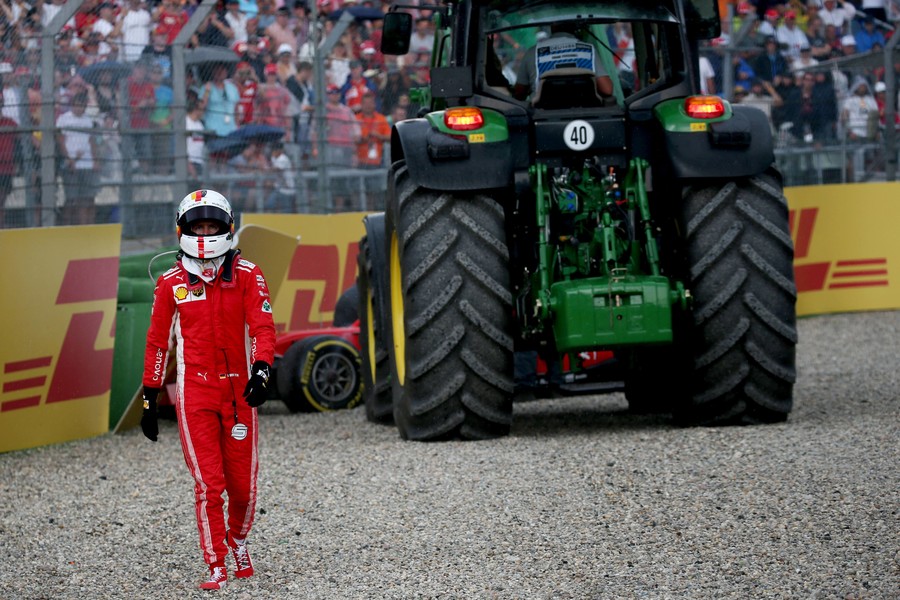 Social media users reacted with a mixture of sympathy and glee to a driver whom some felt had gloated when beating Hamilton at the Brit's home grand prix last time round, as well as fans who had taken pleasure at the Mercedes driver's misfortunes during qualifying in Germany.
Radio message from a tearing-up Vettel after the crash: "F**** sake. F**** sake. Sorry guys. S***." #F1

— Autosport Live (@autosportlive) July 22, 2018
Ferrari/Vettel fans were laughing yesterday. Don't ever laugh at someone's bad luck because it will bite you in the ass.

— Peter (@ffsGiovinco) July 22, 2018
At Silverstone Vettel said on the radio "We've won in their backyard, yes!" This weekend, Hamilton returns the favour and Vettel crashes out! So happy! Get in @LewisHamilton epic drive!!!

— Zac (@Zaka_No_7) July 22, 2018
Disclaimer: I'm not laughing at Vettel, I actually feel bad for him, i'm laughing at the German/Ferrari fans that were laughing and booing at Hamilton in Qualifying yesterday.Like your own master says: "What goes around, comes around" 😬

— Salih Timur Saltunç (@VeS_FlyingFinn) July 22, 2018
Others were much more sympathetic, especially having listened to the emotional radio message Vettel had posted after the crash, in which he appeared on the verge of tears and was heard swearing.
Gutted for Vettel. To go out of any race like that, let alone your home one, must be heartbreaking. Hearing him on the team radio was tough. #GermanGP#F1

— Alex Pryke (@alexpryke) July 22, 2018
Vettel will now attempt to chase down Hamilton's lead as Formula 1 heads to Hungary next weekend.