'Can I wrestle with it?' Conor McGregor feeds and pets tiger in Russia after Putin meeting (VIDEO)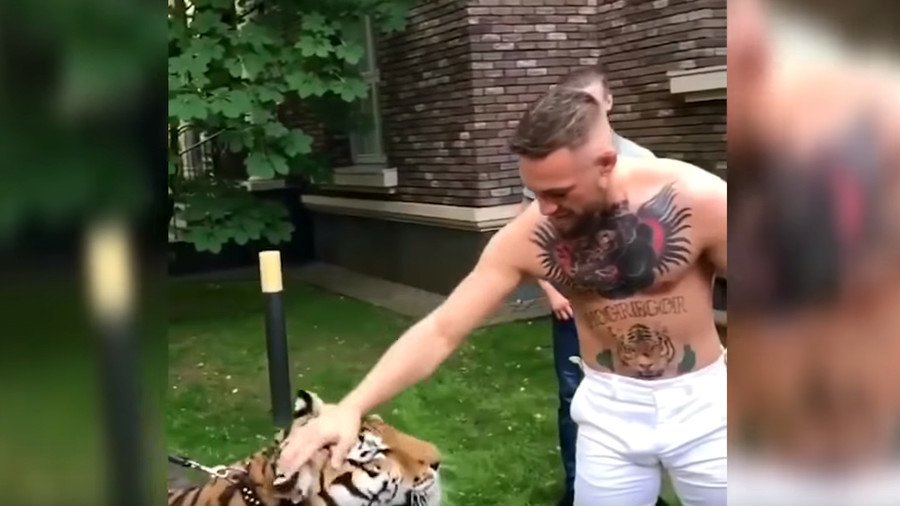 This is the moment Irish MMA superstar Conor McGregor got acquainted with the wildlife of Russia during a recent trip to the country to watch the World Cup final - by stroking, feeding and then asking to wrestle a tiger.
The Notorious was in Russia to attend Sunday's World Cup final at Moscow's Luzhniki Stadium, where he watched France defeat underdogs Croatia 4-2 from the comfort of one of the stadium's plush VIP boxes.
Following the game, which McGregor called "truly an amazing spectacle," the former two-weight UFC champion was taken to meet the big cat, which was on a lead and controlled by a handler.
After petting the tiger, McGregor feeds it strips of meat, before posing the question: "Can I wrestle him?" which is met with the response, "No, no – no wrestling the tiger."
McGregor, who removes his shirt to reveal the huge tiger design tattooed across his stomach, persists by saying: "I'd actually like to wrestle the tiger."
READ MORE: 'One of the greatest leaders of our time!' - McGregor pictured with Putin at World Cup Final
Perhaps McGregor was attempting to emulate his great Russian MMA rival Khabib Nurmagomedov, who is currently holder of the UFC lightweight title formerly owned by the Irishman, and who who published footage of himself wrestling with a bear cub as a toddler.
At the final, a typically snappily-dressed McGregor was snapped with Russian President Vladimir Putin, whom he called "one of the greatest leaders of our time."
"Today I was invited to the World Cup final as a guest of Russian President Vladimir Putin," McGregor wrote in an Instagram post.
"This man is one of the greatest leaders of our time and I was honored to attend such a landmark event alongside him. Today was an honor for me Mr. Putin. Thank you and congratulations on an amazing World Cup."
McGregor signed off the post by adding a Russian touch with "Россия вперёд!" - which roughly translates as "Let's go, Russia!" and is a popular chant at sporting events.
The picture seemed to irritate Nurmagomedov, who was also at the final match as a guest. The undefeated UFC star posted a picture of himself with a Putin lookalike, jokingly saying he paid 500 rubles ($8) for the privilege.
You can share this story on social media: