Cocaine atop lampposts & trashed ambulances: Orgiastic scenes from England's World Cup celebrations
Published time: 9 Jul, 2018 10:00
Edited time: 9 Jul, 2018 12:08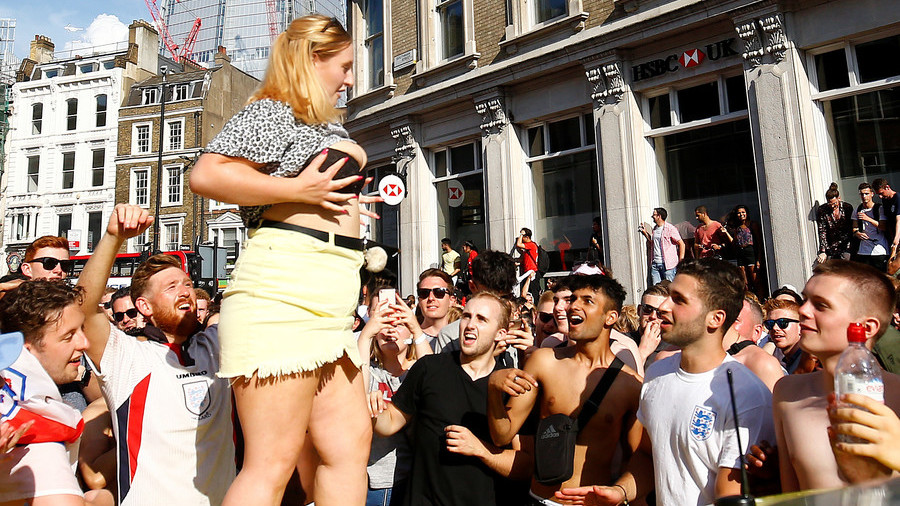 England's unexpectedly smooth passage into the World Cup semi-finals let loose a deeply repressed passion that manifested itself in outbreaks of strangely violent jubilation in city centers around the country.
One assumes if England's premier rivals Germany, who reached six consecutive major tournament semi-finals between 2006 and 2016, celebrated the same way, the country would by now have required a new Marshall Plan.
But on this day, the English didn't care how they looked to the outside world, and wouldn't have to compare themselves to the steely Germans, the silky Spaniards, or the Samba-dancing Brazilians. This day was about them.
In what was by British standards a feverish heat, this was the id unleashed, but among all the untrammeled emotion, there was also a self-conscious showiness, a desire to one up the man (and often woman) next to you - drink your pint more quickly, belt out Three Lions louder, get more sunburned more quickly.
The most obvious way of letting everyone know the extent of your joy was evidently climbing up on elements of traffic paraphernalia, which is involved in a sizable proportion of videos to emerge from England.
But what to do once you are there?
Dance?
Take drugs?
Jump and fall through some glass, then pretend nothing happened?
On one occasion the triumphant car was an ambulance.
And sometimes it wasn't a car at all.
And sometimes it wasn't happening in England - in Benidorm police in a less celebratory mood used batons to restrain the white-shirted fans.
There are still two matches to go.
Do we want to make this man happy?
Though this is an even more disturbing scene of joy.
So the question remains, does the world hope that England don't win another match, lest the apocalypse falls upon us, or do we perhaps hope the Three Lions never lose again so that the party never turns sour?