'Let's f*** this s***!' Ovechkin & Kuznetsov lead wild Capitals' Stanley Cup parade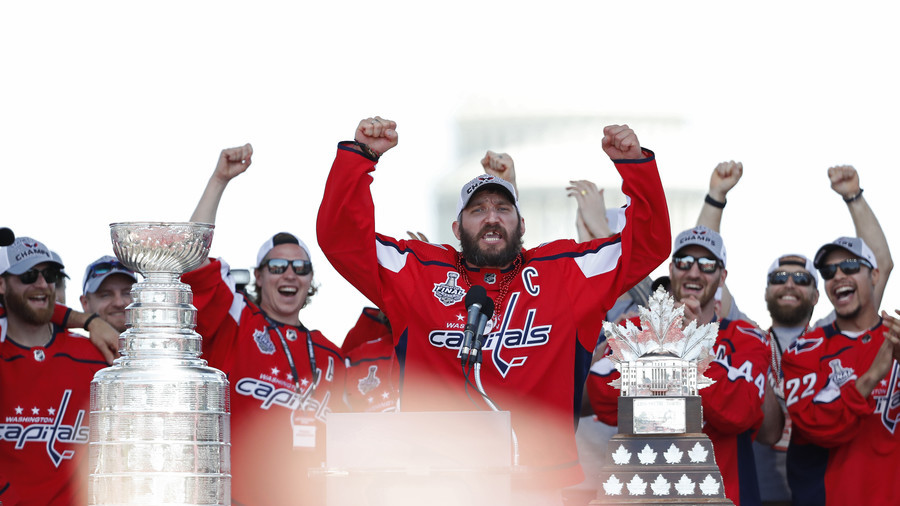 Russian hockey stars Alexander Ovechkin and Evgeny Kuznetsov have led the Washington Capitals' wild Stanley Cup victory parade celebrations – giving speeches to round off a raucous five-day party marathon for the team.
The Capitals held an open-top bus parade for fans on Tuesday, heading down the long Constitution Avenue route, lined with fans, before holding a rally on the Mall. The team and its fans were still celebrating their franchise-first Stanley Cup triumph, which they claimed after beating the Vegas Golden Knights on Thursday to clinch a 4-1 series victory.
READ MORE: Ovechkin does keg stand before jumping in fountain as epic Stanley Cup celebrations continue (VIDEO)
Tuesday's parade was the culmination of the celebrations, and featured passionate – if profanity-laced – speeches from the team's Russian stars Ovechkin and Kuznetsov.
Kuznetsov thanked his friends, family and fans, before dispensing with the pleasantries and saying: "Let's f** this s**!"
Team captain Ovechkin, who finally got his hands on the prestigious trophy in his 12th season in Washington, said: "Before the year….we said, 'we're not going to f***ing suck this year… we're the Stanley Cup champions! Yeah!"
The celebrations cap a wild few days for Ovechkin and his teammates. The Russian was filmed over the weekend doing keg stands in Georgetown before stripping half-naked and splashing around in a fountain – much to the delight of the crowd.
Like this story? Share it with a friend!