Barcelona legend Iniesta bids emotional late-night farewell to Camp Nou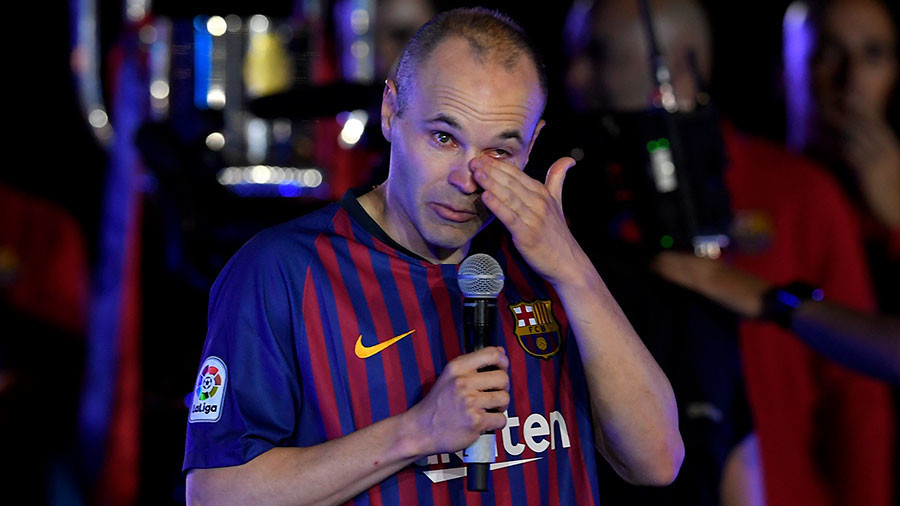 Legendary Barcelona playmaker Andrés Iniesta remained alone on the Camp Nou pitch well into the night following his final game in Barca colors, reflecting on an exemplary career for the Spanish champions.
Andrés Iniesta brought down the curtain on a glittering career for his boyhood team as the La Liga champions claimed a 1-0 victory against Real Sociedad in the Nou Camp on Sunday night. Afterwards the departing Iniesta said his own personal farewell to the only club he has ever represented.
The occasion was a fitting send-off for Iniesta, who leaves Barcelona after winning his ninth Spanish championship in his 674th – and final – match for the La Liga side.
Speaking to fans on the pitch following the match, Iniesta said that he was a boy when he signed for the club but now he "leaves a man."
"I will move on and carry you all in my heart forever," Iniesta said. "It's been a wonderful 22 years, full of pride, and it's been a pleasure to represent this club."
"I thank you all for the love and respect since I arrived as a child, I now leave as a man."
Following the celebrations Iniesta, barefoot and still wearing his Barcelona jersey, remained on the pitch until after 1am taking in the atmosphere of the famous stadium one final time.
READ MORE: McGregor teammate 'escorted by armed guard' following controversial stoppage in Russia
Barcelona manager Ernesto Valverde paid tribute to Iniesta in the aftermath of the game, saying that he was an "unrepeatable, historical player" and that "these types of players will be talked about long into the future."