Atletico Madrid face UEFA punishment for 'racist' flag, crowd disturbance after UEL final (VIDEOS)
Published time: 17 May, 2018 17:07
Edited time: 30 May, 2018 11:06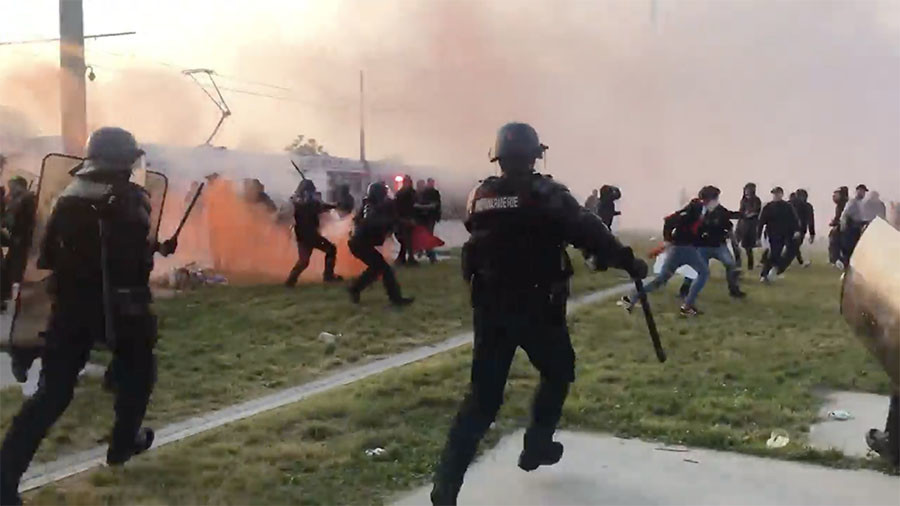 Europa League winners Atletico Madrid are facing a UEFA punishment of "racist behavior" after their fans displayed a supposed far-right banner at the final in France on Wednesday.
The banner is alleged to be styled like a Nazi war ensign. The Spanish team also face charges of crowd disturbance after their fans lit fireworks and clashed with police before their 3-0 win over Olympique Marseille at Parc Olympique Lyonnais. The case will be judged on May 31.
Marseille fans also face several UEFA charges including crowd disturbances during the match and the organization also alleged the fans were responsible for "acts of damage" at the home stadium of its big rival in the French Ligue 1.
Supporters from the city that was the scene of violent clashes between fans at Euro 2016 pelted riot police with smoke canisters, flares and bottles following their team's loss. Spanish troublemakers were also filmed throwing pyrotechnics at officers.
Before the match, Marseille fans created a huge wall of flares in support of their team, turning one of the stands behind the goal into a blazing red wall of fire. They also set off flares throughout the match.
During the game, two goals from star striker Antoine Griezmann and a late strike from veteran skipper Gabi, sunk the French side. With the win, manager Diego Simeone lifted his second Europa League title.
READ MORE: Wall of flares as Marseille fans show their support in Europa League final (PHOTOS, VIDEOS)
France international Griezmann's brace etched his name into the record books as the first French player to score two in a Champions League or Europa League final. He has twice been a runner-up in Europe's premier club competition with Atleti.