Vladimir Putin takes part in Night Hockey League gala match in Sochi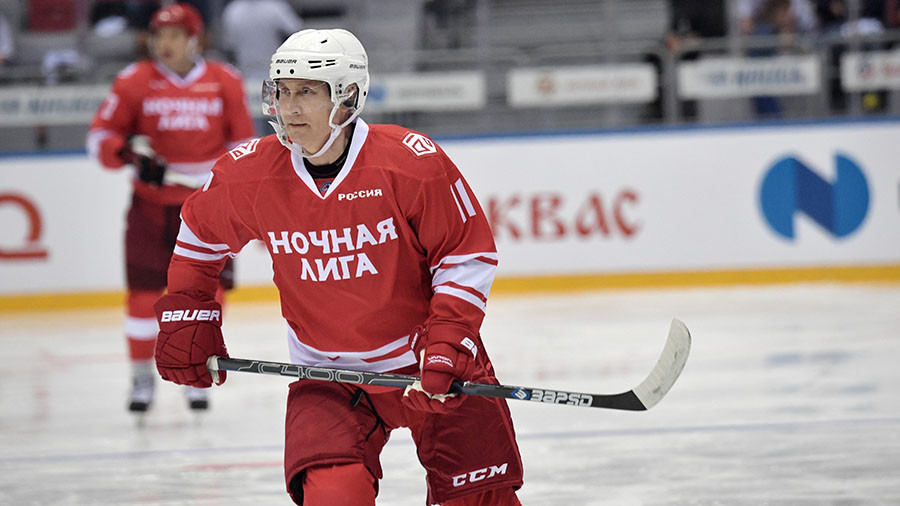 Russian President Vladimir Putin has taken part in a friendly ice hockey game in Sochi, which featured Russia's high-ranking officials as well as former sports stars.
Playing for the Legends of Hockey team, which consists of the sport's prominent veterans, Putin was also accompanied by Russia's Defense Minister Sergey Shoygu. Alongside with famous Soviet players: Vyacheslav Fetisov, Alexei Kasatonov, Valeri Kamensky and Alexander Mogilny who joined the president on the ice of Sochi's "Bolshoi" skating palace.
Tula's region governor Alexei Dyumin guarded Putin's team net during the match. Russian president appeared on the ice wearing his traditional number 11 on his jersey.
Putin's squad faced off against the Flagman team from the Leningard region who won the Night Hockey League's (NHL's) main trophy this year – the Krutov Cup. The head of Norilsk Nickel, Vladimir Potanin, and Moscow region governor, Andrey Vorobiev, also put on white jerseys to play against the 'Reds' headed by the president.
The game ended in favor of the Putin's squad 12-7, with the president contributing to his team's success by netting five goals. The head of state did not take up hockey until he was in his late fifties, when the two-time Stanley Cup winner Fetisov invited him to play the game, converting the president into an amateur player.
READ MORE: Tongue in cheek: NHL player Marchand licks opponent on ice... again (VIDEO)
The NHL, which shares the abbreviation with North America's National Hockey League, was founded in 2011 on Putin's initiative to popularize hockey in Russia and attract older people to the rinks to enjoy the game in the evening after work.
Putin was continuing his tradition of hitting the ice after the presidential inauguration. Six years ago he played an ice hockey game just hours after the official ceremony in Kremlin. On May 7 Putin was inaugurated for his fourth term as Russian president.
You can share this story on social media: