Ballsy! Snooker world champ fulfills promise and attends presser naked (VIDEO)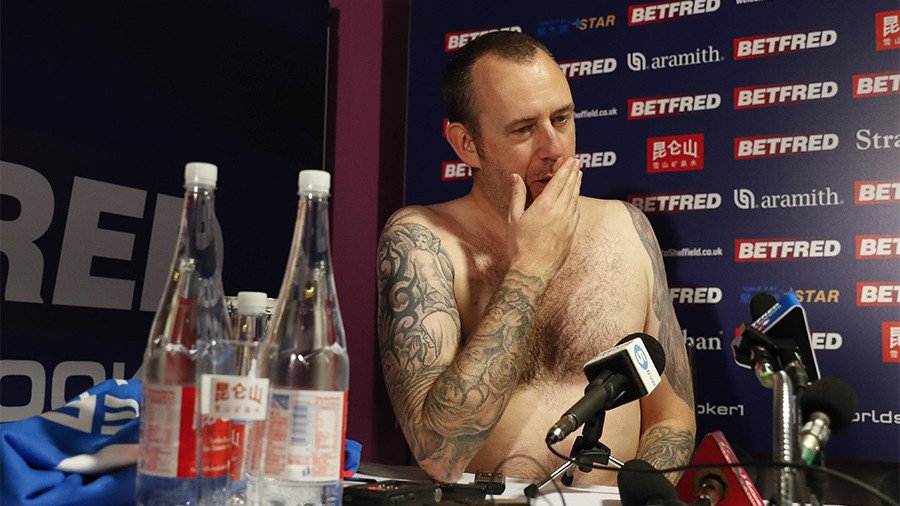 Snooker player Mark Williams remained true to his word by turning up to his press conference naked after winning the World Championship at The Crucible in Sheffield, UK, on Monday night.
It was a case of be careful what you wish for with Welshman Williams, who made the cheeky promise earlier in the tournament to attend his press conference naked should he clinch a third world crown at snooker's mecca.
After securing his hat-trick of world titles with an 18-16 victory over John Higgins, the 43-year-old stuck to his word and stripped off to face questions from the press.
Entering the press room with a towel tied around his waist, Williams made his way through a rapturous and slightly red-faced crowd to seat himself in front of microphones, before removing his towel completely.
"Can't get too close. Make it quick guys!" brave Williams joked to the assembled media, showing off his bare, tattooed upper body.
Williams' blushes were spared by one solitary microphone that covered his modesty, and prevented journalists from grabbing a snap of two balls that Williams didn't pot that night.
READ MORE: Arse about face: English football manager makes donation to have his face tattooed on fan's backside
Williams, who became snooker world champion in 2000 and 2003, scooped the £425,000 ($573,000) with the win. It is a turnaround of a man who considered retiring from the sport only last summer.
You can share this story on social media: