Ethiopian premier league suspended after referee attacked by players and coach (VIDEO)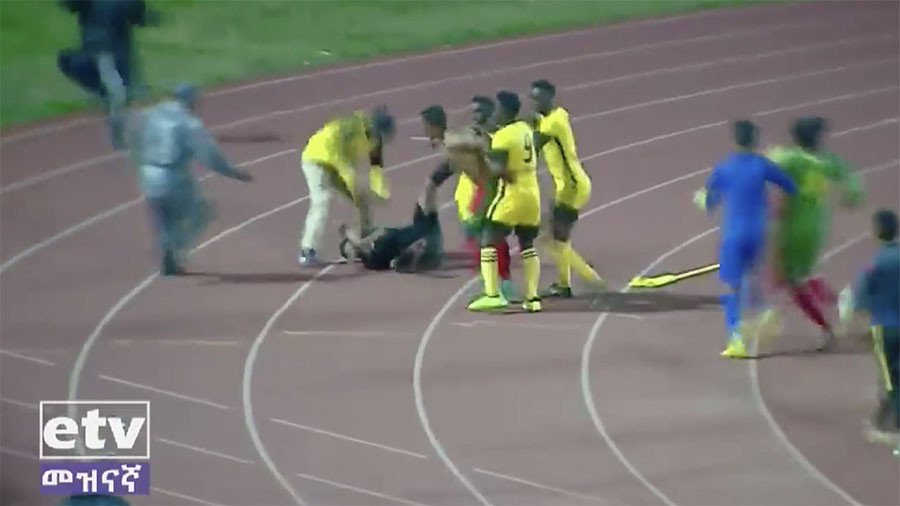 Ethiopian football officials have suspended the premier league after a referee was attacked by players and a coach for awarding a controversial goal.
The incident happened on May 1 when Defence Force SC welcomed their rivals from Welwalo Adigrat University FC.
The game was tied at 1-1 when Welwalo's goalkeeper awkwardly deflected a shot - making the ball slip towards the goal line. The referee indicated that the ball had crossed the line and awarded a goal to the hosts.
That decision triggered an eruption of violence that saw Welwalo's players chase the referee, who tried to defend himself with a corner flag before falling to the ground. He was then allegedly beaten by a member of Welwalo's coaching staff.
The official avoided serious injuries as he managed to escape from the stadium after the brawl. The coach involved in the incident was reportedly fired immediately after the game.
Ethiopian Football Federation officials are expected to meet with team representatives on Thursday, to discuss the issue.
READ MORE: South Africa football thugs brutally beat guard in riot after cup defeat
Last month, fans of South African football club the Kaizer Chiefs rioted after their team lost in the semi-final of the national cup, charging onto the pitch and causing serious injury to a security guard.
You can share this story on social media: