US boxer Wilder loses $4.3mn in Povetkin court case, claims Russian fighter's team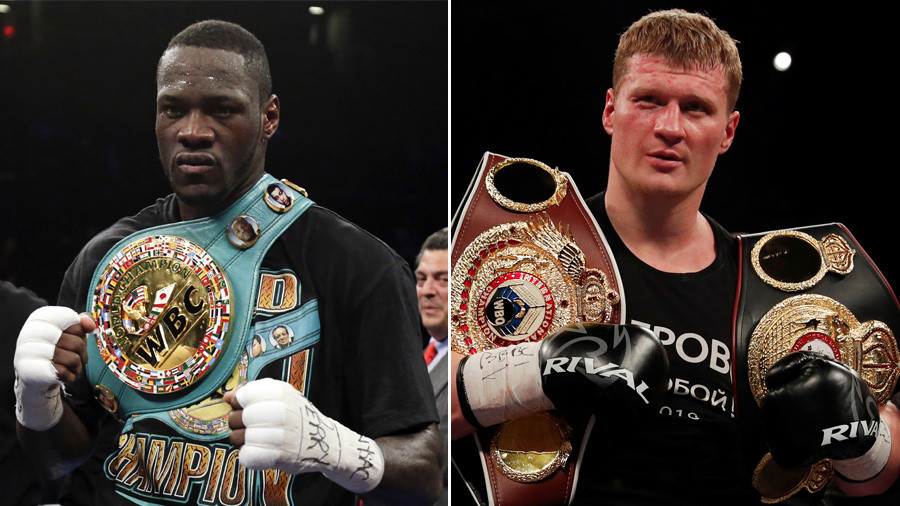 Undefeated American heavyweight boxer Deontay Wilder's team has lost $4.3 million in a court case over the cancelled fight with Russian fighter Alexander Povetkin back in 2016.
According to representatives from Forward Legal, working for Povetkin and his promoter company, Mir Boksa (World of Boxing), a New York court has awarded the Russian boxer's team $4.3 million, which was frozen on a so-called escrow account after the canceled bout in May 2016, R-Sport reports on Friday. Escrow accounts involve third parties handling funds during the process of a transaction between two parties.
"The decision of the District Court of New York can certainly be considered a victory," reads a statement from the legal company obtained by R-Sport. The company added, however, that "the dispute is still continuing."
"The decision can be appealed within 30 days, but Povetkin's lawyers have already demanded the escrow agent to return the money. Povetkin's team will carefully study the 48-page decision to think about further steps. Including legal actions. Because the sides still have to fight for multi-million reputational requirements," the statement says.
The information was also confirmed by the vice-president of Mir Boksa, Andery Ryabinksy, on Friday.
"A few hours ago we won the court case in New York against (Deontay) Wilder's team," Ryabinksy said in Russian on his Twitter.
"And $4.3mln going our way. Details to come. Good morning. Everyone have a good day," he added.
Несколько часов назад выиграл суд в Нью-Йорке против команды Уалдера. И 4,3 млн долларов уходят к нам. Подробности позже. Доброе утро) Всем хорошего дня)

— Рябинский Андрей (@Ryabinskiy) April 20, 2018
In May 2016, the WBC heavyweight title fight between Wilder and Povetkin, scheduled to take place in Moscow, was canceled just days before the bout, after the Russian boxer's doping test identified traces of Meldonium, a drug which had been added to the list of forbidden substances on January 1, 2016.
Wilder's team back then accused the Russian side of scuppering the fight, left Moscow and demanded compensation to the tune of $5 million. Ryabinsky and Mir Boksa, in response, asked for $34.5 million in damages to their boxer's honor and dignity.
Povetkin's team later provided evidence that the Russian did not consume Meldonium after it had been banned.
On June 27, 2017, Povetkin was reinstated in the WBO and WBA world rankings, following their lifting of his ban for doping.