Australian rugby star Folau avoids punishment for anti-gay comments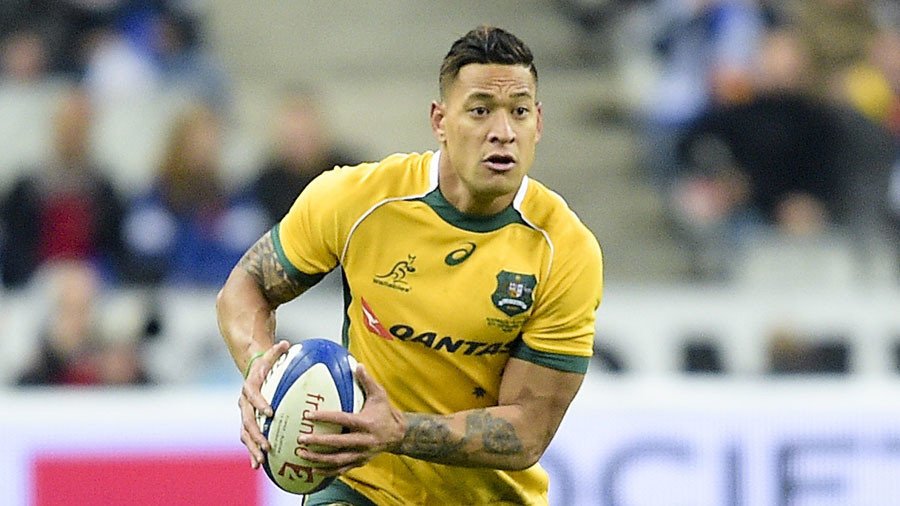 Australian rugby star Israel Folau will not be penalized by Rugby Australia for his anti-gay comments which caused a public uproar and homophobia discussions in the world of rugby as well as outside of it.
Two weeks ago, the 29-year-old full-back made a controversial comment on his Instagram account, in reply to a question from someone who asked: "what was gods [sic] plan for gay people??"
"HELL... Unless they repent of their sins and turn to God," Folau responded, provoking outcry, with many people accusing him of homophobia.
Chief executive officer of Rugby Australia, Raelene Castle, said that no sanctions will be imposed on the player, whose comments are believed to have been driven by his religious views rather than an intention to offend.
"Israel clearly articulated his religious beliefs and why his faith is important to him, and has provided context behind his social media comment," Castle said.
"In his own words, Israel said that he did not intend to upset people intentionally or bring hurt to the game. We accept Israel's position. Rugby Australia will use this experience as an opportunity to remind all employees of their obligation to use social media in a respectful way," she added.
In a Players Voice column titled "I'm a sinner too" the rugby player reiterated that he never intended to cause offense, adding that he was ready to terminate his contract with Rugby Australia following the scandal.
"As you have probably read, last week I met with Rugby Australia chief executive Raelene Castle and Waratahs general manager Andrew Hore. During the meeting I told them it was never my intention to hurt anyone with the Instagram comment, but that I could never shy away from who I am, or what I believe."
"After we'd all talked, I told Raelene if she felt the situation had become untenable – that I was hurting Rugby Australia, its sponsors and the Australian rugby community to such a degree that things couldn't be worked through – I would walk away from my contract, immediately," he added.
READ MORE: CSKA dismiss allegations of 'racist chants' at Arsenal players
"I read the Bible every day," Folau said. "I believe that it is a loving gesture to share passages from the Bible with others. I do it all the time when people ask me questions about my faith or things relating to their lives, whether that's in-person or on my social media accounts," he wrote.
Last September, Folau was severely criticized for his views on sexual orientation after he said he didn't support same-sex marriage.
"I love and respect all people for who they are and their opinions. but personally, I will not support gay marriage," he tweeted.
You can share this story on social media: