'Real fans are a family': Russian Arsenal supporter Daria Isaeva, your new favorite football artist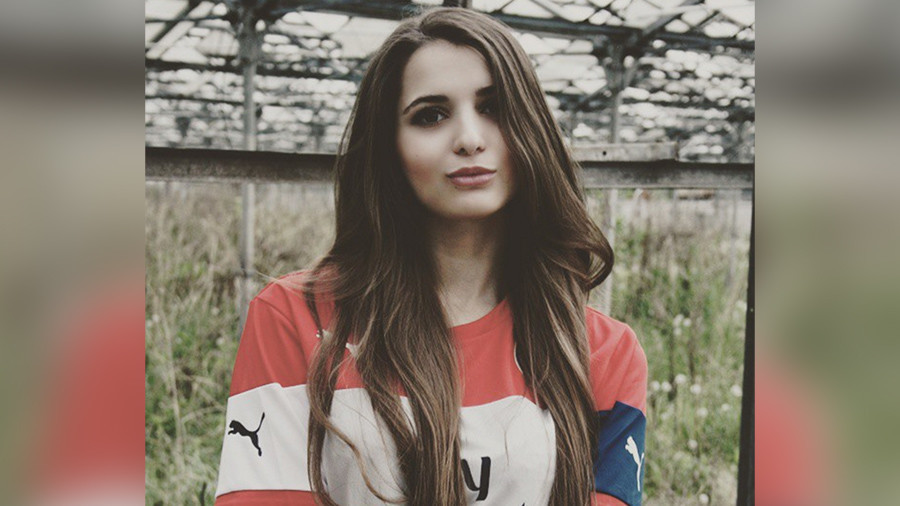 For football writer, artist and avid Arsenal FC supporter Daria Isaeva, her portraits are the fruits from a labor of love; depicting her heroes of the famous Highbury pitch and recreating their magic with pencil and paper.
Moscow-native Daria initially began as a 12-year-old intending to brighten up her bedroom with pictures of fleet-footed footballers and, although her initial efforts were admittedly "raw," she persevered, driven by a desire to "create something beautiful."
Now 21, Daria owns an impressive portfolio that features some of the most famous faces from the world of football, from Cristiano Ronaldo and Zlatan Ibrahimovic, to David Beckham, Gianluigi Buffon and of course, Arsene Wenger.
Her body of work has appeared on Russian national television, most notably during the 2017 Confederations Cup in Russia, the precursor to World Cup 2018 in the country this summer, as well as on FIFA TV.
However, her allegiance to The Gunners dictates that the vast majority of portraits are sketches of Arsenal legends. These include childhood icon Denis Bergkamp, club stalwarts George Graham, Steve Bould and Pat Rice, through to cult heroes like Tony Adams right up to Pierre Emerick Aubameyang.
Even managing director and club secretary Ken Friar, a man largely operating behind the scenes, is given a mock-up to ensure no figure of the club's history from Highbury to The Emirates is overlooked.
Although an ardent Arsenal supporter, the artist's Russian roots are also prevalent in her work and include Soviet goalkeeping great Lev Yashin – the subject of the Russia 2018 World Cup poster – former national team manager Leonid Slutsky, and even tributes to literary great Nikolai Gogol.
Arsenal will meet Russian side CSKA Moscow in the Europa League quarterfinal. CSKA travel to London on April 5 with the return fixture in the Russian capital on April 12. The fixture comes at a time when relations between the UK and Russia are faltering due to the recent political climate following the nerve agent attack on former British spy Sergei Skripal in Salisbury, UK.
UK Prime Minister Theresa May announced Britain would diplomatically boycott the Russia 2018 tournament – no delegate or royal family member will visit the tournament, as punishment for the supposed Russian involvement in the poisoning.
Both sets of fans have received warnings from their respective clubs to be careful when traveling abroad to either game and Western media have entered into overdrive at the prospect of violence.
Also a journalist writing for Russian Eurosport, Daria remains level-headed about the situation, saying sport and politics should never be mixed, and that Russian fans will welcome English visitors "from all corner of the world."
Here, she tells RT Sport about Arsenal, art, falling in love, the World Cup, and how family football feuds can leave you locked out on the balcony.
RT Sport: How did you come to draw portraits of footballers?
Daria Isaeva: I started drawing in high school, four years ago. The idea was to brighten up my room with Arsenal footballers, but then I wanted to get creative – and a pencil appeared under my hand. At first they came out looking nothing like them, a bit raw, but I liked them – and I continue to work and work. Sometimes it was difficult, I wanted to give up, but I wanted to create something beautiful more.
You have drawn many footballers, but who is your favorite player?
My favorite players are Denis Bergkamp and Thierry Henry – my unrivalled childhood heroes. Their passing, their vision always seemed a little magical, unbelievable. But it's one thing how it appears to a child, and completely different when you are an adult, having watched enough football to last you a lifetime. I still often watch highlights of their games, sometimes entire matches, and I still can't believe how they did what they did. How!?
Today we don't have enough of these types of player, that you can watch and zone out from everything with sheer enjoyment – not at Arsenal, nor anywhere else. From players today I like Kevin De Bruyne most of all – there's something Bergkamp in him, and he has something even better than what Denis had, but he's still young and hasn't played enough. I hope that he has a long and successful career ahead of him.
The World Cup will be in Russia this summer. Do you plan to draw any players coming to the tournament?
I have a few – but in a couple of months a few others will appear: Mohamed Salah, Edinson Cavani, Sadio Mane, Luis Suarez.
You are from Moscow. How did you come to support Arsenal, an English team?
When I was young, the choice of football on television was not huge – fortunately, they sometimes showed Arsenal, and one day I saw them play. It was one of the first matches in my life – with Henry, Bergkamp, Pires. But I fell in love with Arsenal not because of those games (then I was still a long way from understanding everything), but because of a feeling coming from my soul, that this is my team.
And it was class to support a different team than my older brother – he is a Liverpool fan. Although, he even locked me out on the balcony when they played. Now I think that it's good that I didn't fall for Everton or Man United, otherwise that would have been one cold I wouldn't have got rid of.
What chances do the Russia national team have at their home World Cup?
Let's be honest – none. Getting out of the group would be a moderate success. Uruguay are stronger and more experienced, Salah is breaking through for Egypt, and while one good player isn't enough for the victory, the team are solid. Yes, Saudi Arabia – that's three points, if they don't screw up every five minutes. But as for Russia? They have a bunch of important players injured, inconsistency in the team.
Artem Dzyuba and Igor Denisov, who are clearly better than a lot of Russian internationals in their positions, don't play because of fallings-out with the manager, Cherchesov. The coach cannot communicate with any of the fans nor the press, nor the players – which is the most important thing. They don't respect him. It's a double-edged sword, which cuts us on both ends. Firstly, with such an anti-communication trainer, even the best team wouldn't perform. Secondly, with such a disorganized, unprepared and weak team, even the best trainer wouldn't cope.
Some say your manager Arsene Wenger should retire, because he has failed to deliver a league title since 2004. Are you 'Wenger In' or 'Wenger Out'?
I was born just one month before Arsene Wenger was appointed Arsenal manager. Virtually I cannot imagine the club without him, I don't know what that is. For many Wenger supporters, everything that was before him, it's a different millennium, a different world. That world that he showed us, in time was so beautiful that we still believe that all will be as before. I really love Wenger, but I see that the club is not developing. I cannot answer the question should he go, because for me it is a step into the unknown.
I am afraid that people in the club have stopped respecting and listening to him, even the players. We don't know a lot of things that go on inside the club, but one thing is absolutely clear: individual work with the team is being poorly carried out, and it affects the game. Sometimes footballers simply don't know their own place, their own function, and don't acknowledge their weaknesses. Someone should tell them about that. And these people are the coaching staff.
Do you often visit matches in England?
When I go to England, I of course go to the football: I was at the FA Cup final last season against Chelsea and a few other games in the Premier League.
Lastly, Arsenal will play CSKA Moscow in the Europa League; do you plan on attending the 2nd leg in Moscow?
Of course! I managed to get a ticket in the Arsenal end – such joy! I have a soft spot for CSKA and for Russian clubs in general, but when they play Arsenal, I only hope for an Arsenal win. Yes, I usually understand that it is hardly likely, but now, when the final is so close, I want to think only about what we can achieve.
Lastly, Do you have a message for fans that might be afraid to come to Moscow?
I hate that football has become closer to politics than to sport – and it is not only about a few fans or fans that simply cannot go to another country to support their home team. Politics changes football every day and it doesn't allow it to develop in a lot of ways. I want to say to supporters from all countries: there are bad people everywhere – we have them and you have them. I won't speak for everyone, but us Arsenal fans will gladly welcome different Gunners from all corners of the earth. Because real fans are a family. And we always and will be closer to sport than politics.
By Danny Armstrong for RT Sport