NFL team makes history by hiring male cheerleaders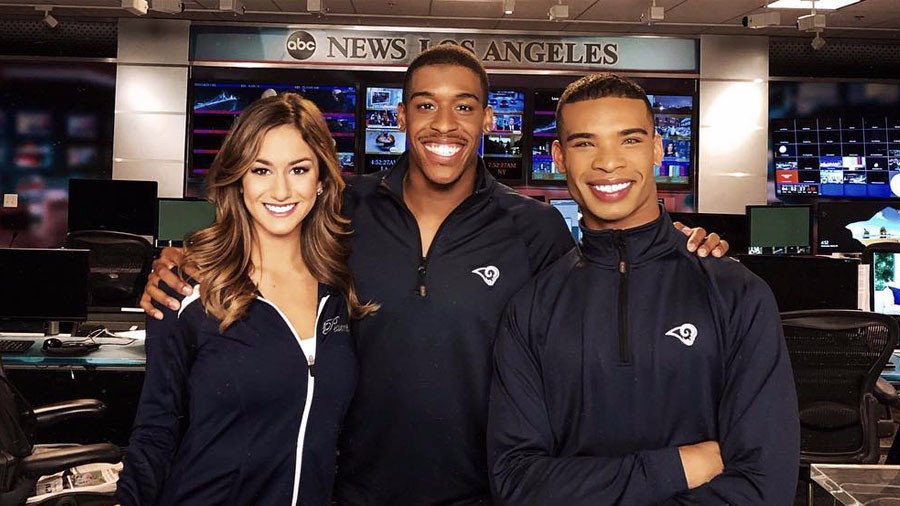 The Los Angeles Rams have added two men to their cheerleading squad, becoming the first National Football League (NFL) team to have male dancers on the field.
Quinton Peron and Napoleon Jinnies were named for the 40-member cheerleading squad following several stages of rigorous auditions. The two California natives successfully passed through preliminary rounds to be approved for an interview and three rehearsals where 76 finalists were chosen.
READ MORE: Formula 1 to replace 'grid girls' with 'Grid Kids' initiative
Almost half of the auditioned finalists were eliminated in the decisive stage of the tough selection process, after which the final cheerleading roster was announced. The two classically trained dancers were among those who made the final cut, becoming the first male cheerleaders in NFL history.
Two NFL teams, the Baltimore Ravens and the Indianapolis Colts, have male stuntmen on their lineups, but Peron and Jinnies will become the first men to perform the same routines as their female counterparts.
Peron says that the idea of trying to make it to the team struck him when he attended a Los Angeles Lakers game last month and watched the cheerleading squad performing during a break.
"And I was asking myself, 'Why can't I be down there," Peron said during an interview on Good Morning America. "I've choreographed for girls who danced on pro teams, I've danced with girls on various pro teams, so I thought: 'Why not me? Why can't I do this?' So I called my friend and I asked her when auditions were for the Rams and she told me Sunday and I showed up."
Jinnies says the competition was lengthy and exhausting, but that he was happy to make it all the way to the final stage.
"This one was about three weeks long and we had a bunch of rehearsals in between and an extensive interview process, but it was really humbling and amazing to be invited every time you came back. High emotions, but it was worth it."
Squad captain Emily Leibert says the two men are incredible and "really fit the bill to be Los Angeles Rams cheerleaders."
"They are intelligent, they are eloquent, they are more than qualified to be ambassadors out in the community," Leibert said."They bring so much energy and there's something so magnetic about their performance, you really can't take your eyes off them."
The introduction of male dancers comes just several days later after former New Orleans Saints cheerleader Bailey Davis filed a lawsuit against the team, alleging that it has different approaches to male and female employees. Davis claims she was fired for an Instagram post showing her wearing a lingerie body suit.
According to the league's rules and regulations, cheerleaders are prohibited from sharing nude or semi-naked pictures on social media. The rule does not apply to Saints players.


You can share this story on social media: